5.8 GHz Outdoor Bi-directional RF Amplifier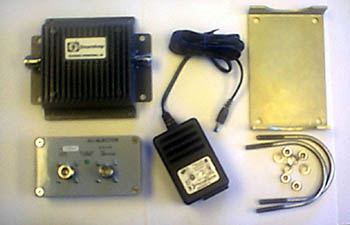 Designed for extending the range of 5.8 GHz wireless radio devices, this amplifier is particularly effective when used with low-power radio modems. The unit provides the transmit power amplification as well as receive signal gain.
This specially designed outdoor unit with its Low Noise Amplifier (LNA) gives optimum performance when installed at the antenna. Maximum RF output power of 1 W.
Ideal to increase the range of low-power devices such as wireless LAN cards, low-power radio modems and to recover the cable losses in many installations.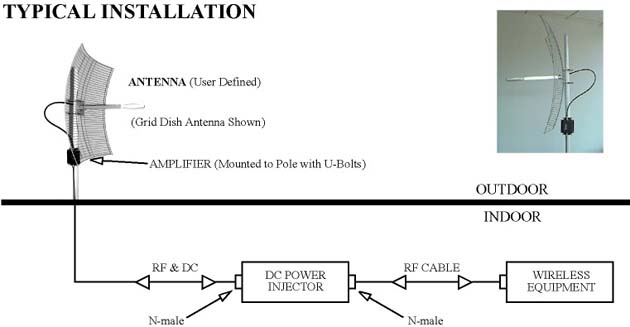 Specifications
Operating Range

5725 - 5875 MHz

Operating Mode

Bi-directional, half-duplex Time Division Duplex. Senses RF carrier from transmitter and automatically switches from receive to transmit mode.

Transmit Gain

17 dB

Frequency Response

± 1 dB over operating range

Output Power

1.0 W (+30 dBm) nominal

TX Input Power

0.5 mW (-3dBm) minimum, up to 25 mW (+14 dBm) maximum

Receiver Gain

10 dB typical

Noise Figure

3.5 dB typical

Connectors

N-type, female, 50 Ohm

Lightning Protection

Direct DC ground at antenna connector

DC Surge Protection

at 12 VDC input from transmission cable

Power Consumption

1.7 A @ 12V DC or 105 — 240 VAC from power supply

Dimensions

Bi-directional amplifier:

5.5"L x 4.6"W x .25"H

12V DC injector:

4.53"L x 2.56"W x 1.18"H

Operating Temperature

Bi-directional amplifier:

-20 °C to + 70 °C

12V DC injector: -30 °C to + 70 °C

Humidity

Bi-directional amplifier: up to 100% Relative Humidity

12V DC injector: 10% to 75% Relative Humidity