Wideband VHF/UHF Antennas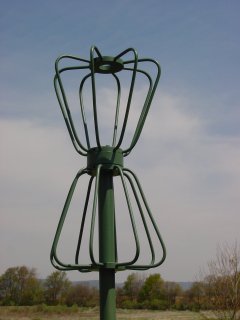 This new line of optimized wide bandwidth antennas provide a superior solution for communications or measurement and testing systems requiring large instantaneous bandwidths with very flat impedance requirements. By using computer optimization
techniques, engineers were able to design a unique wideband dipole antenna with low VSWR, high efficiency, and lightweight rugged construction.

The antenna is available in several standard configurations or can be customized to a particular requirement. No lossy matching networks or lumped-element circuit components are used in the antenna, making it useful for waveforms requiring wide instantaneous bandwidth.
Specifications:
• VSWR: 3.0:1 max in band
• Standard Frequency Ranges:
• 30—90MHz
• 130—550 MHz
• 200—700 MHz
• Others by request
• Gain: 1.5 to 2 .5 dBi - No lossy matching network
• Pattern: Dipole Equivalent
• Polarization: Linear
• Mounting: Horizontal or Vertical Pipe Mount
• Lightweight aluminum or rugged brass construction
Download the Wideband VHF/UHF Antennas data sheet - PDF Version