Video Teleconferencing Tail-Circuit Solutions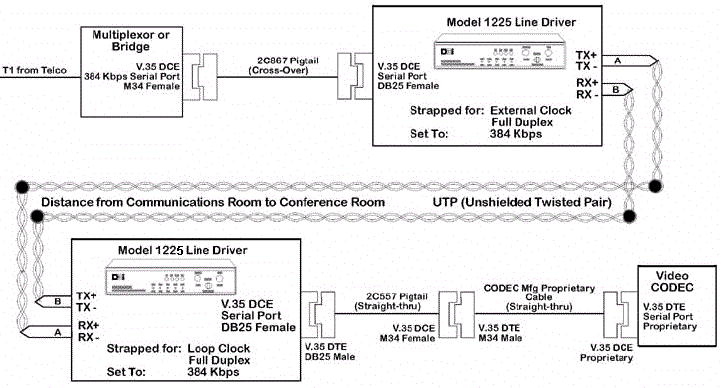 1200 Series High Speed Synchronous Line Drivers offer flexibility in implementing video tail-circuit communication links for VTC Codecs. A pair of Line Drivers can be used between the network access equipment located in the "PBX" room at the telco demarcation, and the VTC Codec that might be located in a distant classroom or conference room.
The 1200 Series Line Drivers can carry a T1 or fractional T1 video bit stream out to the remote VTC Codec across ordinary copper, unshielded twisted-pair (UTP) cabling. This allows use of the existing infrastructure of copper phone cabling, and allows the signal to be patched to outlets in different rooms as appropriate to support a VTC Codec on a moveable cart.
Line Drivers can drive this tail-circuit out to 7,000 feet at 384 Kbps. They are available in both stand-alone and rackmount versions and can be configured to interface with either V.35 or RS-449/422 connectors and signal levels.
Also offers its services to modify the form-factor or bit-rates of these off-the-shelf products, or even to design new equipment to meet the individual needs of our customers.