GW-232

Mini EdgeGate Voice over IP and FTTH Media Gateway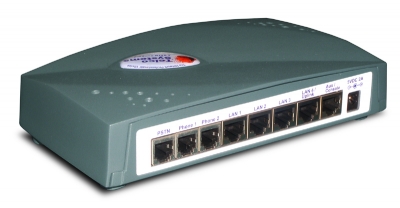 The EdgeGate GW-232 series voice over IP and FTTH media gateways are the most efficient, flexible, and powerful devices in their class. With operations established worldwide, many satisfied end-users benefit from the EdgeGate family use by converging broadband services such as voice, video and data over a single IP infrastructure. The GW-232 supports various configurations of up to 2 analog voice lines and up to 4 10/100 Mbps Ethernet ports, including 100 Mbps Ethernet optical uplink. Thus, the EdgeGate GW-232 series VoIP and FTTH gateways cover the entire spectrum of requirements for both enterprise VoIP environment and remote office connectivity.

Furthermore, the EdgeGate GW-232 series platforms are capable of providing Enhanced Layer 2 IP switching with VLAN tagging, TOS marking (L3), security and Quality of Service (QoS) features support.

Fiber-to-the-Home/Apartment (FTTH/A). The EdgeGate's flexible architecture enables it to be the only VoIP gateway platform that supports a variety of transmission technologies, such as 100Mbps copper or fiber single-mode, multi-mode and even bi-directional (single fiber usage) fiber optics. Fiber support, with 100Mbps bandwidth, enables the end user to enjoy any broadband bandwidth-hungry application, such as Video-On-Demand, and enables the service provider to provide this service in wide distribution area, while maintaining high quality of service.

Voice (VoIP), video and data convergence. The EdgeGate GW-232 series is the ideal CPE solution for service providers looking to deliver voice, video and data over copper/fiber to the end user. As these services are delivered over the same network infrastructure, it is imperative that CPE devices support higher-level Ethernet standards to ensure the successful delivery of voice, video and data. The EdgeGate GW-232 series support 802.1p QoS (voice over data & video priority), 802.1q VLAN tagging, Spanning Tree Protocol and IGMPv2 (for video streaming applications). The EdgeGate GW-232 currently supports all present VoIP protocols including SIP, MGCP and H.323.
Other basic protocols, too, can be enabled. This adherence to standards allows users to have maximum interoperability with the existing network infrastructure.

Small and medium enterprises usage. The EdgeGate GW-232 series is the unequivocal solution for small and medium enterprises, due to its unparalleled combination of reliability, functionality, and economy. Users can easily set up phone calls through the IP network while simultaneously use the GW-232 as a high bandwidth enterprise network connection.

Manageability. GW-232 can be managed by CLI, SNMP, HTTP, Telnet, local terminal and download of configuration and new software via DHCP server. In addition, the EdgeGate GW-232 series, like all IP platforms, is supported by BiNOSCenter, the Element/Network Management System.
Download the GW-232 data sheet - PDF Version



Benefits and Features
Integrated Voice (VoIP), Video and Data IP media gateway
2 Voice (FXS) ports
3 Data 10/100BaseTX ports
1 Uplink/ WAN port – 10/100BaseTX or 100BaseFX
1 PSTN Life Line port – guarantees phone always-on
1 CLI ports
Enhanced Video capabilities
Full support for ITU SIP, MGCP and H.323
Enhanced L2 switching capabilities Wire speed performance
Integrated Web server
Automatic tone generation: Dial, Busy, Ring-Back
DTMF detection and generation
Voice activity detection & prioritization
IGMP Snooping
Automatic configuration (BOOTP)
T.38 Facsimile over IP support