Gmux-2000 - Central Office TDMoIP and Voice Trunking Gateway

Product Summary
The Gmux-2000 TDM pseudo-wire gateway for central offices is a cost-effective, modular, high capacity solution for transporting multiple E1, T1 links over IP, Ethernet and MPLS-based networks. The Gmux-2000 supports all TDM pseudo-wire standards (TDMoIP, SATOP and CESoPSN) for carrying, converting and transporting TDM data streams over packet-switched networks (PSN). Pseudo-wire enables enterprises to run voice, video, and legacy data over the packet-switched networks, thereby minimizing network maintenance and operating costs. Transparent connectivity over the Eth/IP/MPLS maintains all features and functionality of the legacy network. Both service providers and data carriers can benefit from pseudo-wire technologies. Service providers can migrate to Eth/IP/MPLS while continuing to provide revenue-generating legacy services. Data carriers profit by enabling them to offer lucrative leased-line and private line services. The Gmux-2000 coupled with remote site gateways, offers a complete, cost-effective TDM pseudo-wire system solution.
Benefits
Preserve investment in legacy devices

Generate new service revenues

Allow low cost deployment with quick installation

Reduce operational costs

Provide complete support for QoS features

High quality, low bandwidth VoIP features
Quick Specs
Transports up to 196 individual E1/T1 links or two channelized STM-1/OC-3 circuits, over two Gigabit Ethernet (GbE) network links

Modular chassis with up to two GbE network modules and seven I/O modules

Fully redundant hardware, including all system and service modules

Centralized SNMP-based management, using RADview-SC/TDMoIP
Further Product Information
System description
The Gmux-2000 TDM pseudo-wire gateway for central offices comes in a 6U-high chassis, mountable in a 19" ETSI or ANSI rack. The Gmux-2000 TDM pseudo-wire gateway for central offices employs a double StarLAN backplane with the ability to interconnect two full Gigabit Ethernet trunks with any of the installed I/O modules. Two telecom buses interconnect between the I/O modules.
Modules lonely
The Gmux-2000 TDM pseudo-wire gateway for central offices' chassis includes slots for the following hot-swappable modules:
Two Gigabit Ethernet network uplink modules

Two control modules

Three AC/DC power supply modules

Seven I/O modules (E1/T1 interface, STM-1/OC-3 interface, and E1/T1 CE server types)

Cooling fans module
Gigabit Ethernet network modules, each with a pair of redundant Gigabit Ethernet (GbE) uplinks. The GbE links support Ethernet IEEE 802.3, 802.1Q (VLAN tagging) and 802.1p (priority/class of service).
E1/T1 TDMoIP modules provide conversion of E1/T1 traffic flows for transmission over the packet network via the Gmux-2000 GbE network module. Several versions of the TDMoIP module are available:
E1/T1 interface modules with 28 external E1 or T1 interfaces for applications where individual E1/T1 ports are needed to interface with TDM devices.

E1/T1 Circuit Emulation (CE) server modules are used in conjunction with the STM-1/OC-3 interface modules. The E1/T1 CE server modules are used to extract 21 E1 or 28 T1 internal channels coming from the STM-1/OC-3 interface module and convert them to TDMoIP traffic flows.
STM-1/OC-3 interface modules perform SDH / SONET multiplexing/demultiplexing of channelized STM-1/OC-3 trunks into separate, internal E1/T1 circuits (for TDMoIP encapsulation by CE server modules). Each STM-1/OC-3 interface module provides a pair of ITU-T G.703 coax or G.957, G.958 fiber optic links, supporting 1+1 redundancy.
Voice compression modules the Gmux-2000 TDM pseudo-wire gateway for central offices supports up to seven voice compression modules compatible with the Vmux product line. Each voice compression module supports up to 16 E1 data streams over two E1 links. Alternatively, the voice traffic can be aggregated into an STM-1/OC-3 trunk. The Gmux-2000 TDM pseudo-wire gateway for central offices can accommodate up to seven E1-VC/16 modules. A chassis equipped with one or two STM-1/OC-3 link modules supports six or five E1-VC/16 modules, respectively.
Platform capacity
Each E1-VC/16 module is equipped with two E1 main link ports, which transmit the voice traffic from its 16 E1 user ports (up to 3,360 voice channels supported per chassis). The user traffic distribution between the main links is user-configurable so that any user voice channel can be groomed to any link. Alternatively, the Gmux-2000 TDM pseudo-wire gateway for central offices can be equipped with an STM-1/OC-3 link module to aggregate the user voice traffic into a single 155 Mbps stream via the internal chassis bus, for transmission over an SDH / SONET network link. Up to six E1-VC/16 modules (for up to 2,880 voice channels) can be supported by a single Gmux-2000 chassis equipped with an STM-1/OC-3 link module.
Voice compression reduces costs
The E1-VC/16 modules utilize unique TDMoIP multiplexing, together with G.723.1 and G.729 Annex A voice compression algorithms, to provide a total reduction of up to 16:1. This results in very efficient bandwidth utilization while preserving excellent voice quality. More traffic can be handled by fewer links with resulting cost savings on leased lines.
Voice Activity Detection (VAD) and silence suppression allow the E1-VC/16 modules to dynamically allocate bandwidth for voice traffic. This improves bandwidth utilization, leaving more bandwidth for data transport. The modules detect, generate and relay DTMF, MFR2 and MFC signaling.
The modules support Group III fax modem relay. Modem transmissions are handled as voice band data, and all common modem rates and standards are supported. The user can enable/disable fax or modem relay; alternatively, a maximum fax transmission rate can be defined.
Control modules provide the SNMP agent, human interface and database storage for configuration and control of the entire Gmux-2000 TDM pseudo-wire gateway for central offices system. These modules are equipped with an RS-232 port, as well as a 10BaseT port for out-of-band management. Each control module provides redundant interfaces for connecting external G.812 station clocks and for alarm inputs/outputs.
Power supplies are hot-swappable plug-in modules. Up to three AC/DC power supply modules can be installed for load-sharing and redundancy. Two modules are required to drive a fully equipped The Gmux-2000 central office TDMoIP gateway system.
Management
The Gmux-2000 TDM pseudo-wire gateway for central offices is part of an overall solution for transferring TDM bundles over IP, MPLS or Ethernet networks end-to-end, from the CPE to the point-of-presence (POP) or to the central office (CO). Thus, management of the entire system should ideally be performed using a single management application. This unified management application, RADview Service Center TDMoIP, combines a user-friendly interface with both element and network management level capabilities.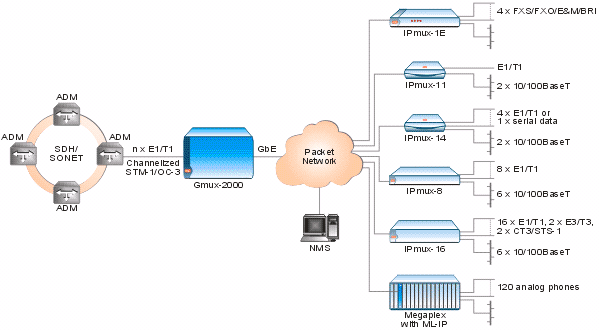 Running legacy TDM services over a packet-switched network

Extending multiple TDM trunks over a packet network

Voice trunking over multiple E1 streams in a cellular network

Remote call centers
Download the Gmux-2000 data sheet - PDF Version