AXIS Camera Management
Efficient management tool for your Axis network video products
Locate and show connection status of Axis video devices on the network
Set IP addresses
Configure single or multiple units
Manage firmware upgrades of multiple units
Manage user access rights
Use standard Internet protocols
Powerful management capabilities
AXIS Camera Management is a powerful and efficient installation and management tool specially designed to be used with Axis network video products. Using standard network protocols and methods, the tool can automatically find and set IP addresses, configure, show connection status and manage firmware upgrades of multiple devices.
All sizes of installations
Installed onto your Windows PC, the AXIS Camera Management can be used in all sizes of installations. The tool is designed to handle hundreds of Axis network cameras and video servers. This flexible software takes advantage of your existing network infrastructure and simplifies management of your Axis network video products.
Interface overview

Main window
The main window provides a single interface to organize and monitor network video devices. On startup, AXIS Camera Management lists all the devices found on the local network in the All Devices group. Devices that need attention are listed in the Warnings/Errors group. You can create custom groups and sub-groups in My Groups in order to organize devices e.g. according to location or model.
The properties of a single device can be viewed by highlighting a device from the list.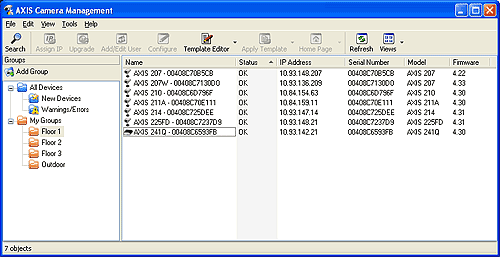 Assign IP address
The IP address in a device may need to be changed for various reasons, e.g. when configuring a device for the first time.
AXIS Camera Management allows easy assignment and change of IP addresses. You can set the IP address manually, or suggest available IP addresses from a specified range to speed up the process of assigning the IP address in multiple devices.
Specify the IP address for one device at at a time, or enter a range of IP addresses.
Configure devices
With AXIS Camera Management you can configure one or many devices at a time. With the Template Editor you can save parameter values in a template that can be applied on several devices. You select and add parameters from the sections on the left, and enter/change the parameter values in the Design area on the right.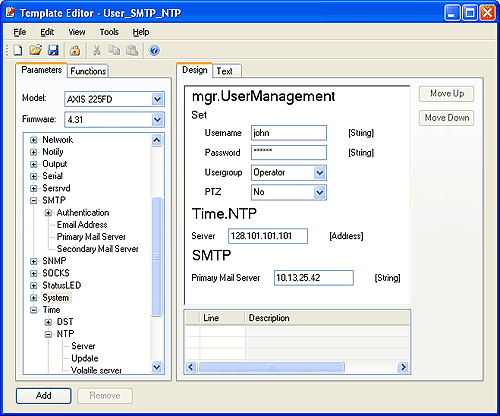 Upgrade multiple Axis video products with new firmware
Single or multiple Axis video products/devices of different models can easily be firmware upgraded in sequence or in parallel.
To automatically download the latest available firmware for your device, click the Download button in the Upgrade Firmware dialog.

Upgrade firmware in multiple devices in Parallel to reduce the time required, or choose Sequence to have fewer devices offline when upgrading.

You can also restore all upgraded devices to their original factory settings.
Download the AXIS Camera Management data sheet

User scenarios
These are some typical user scenarios where AXIS Camera Management would provide an easy and efficient solution:
Installer - Assigning IP addresses and configuring devices
Contracted maintainer - Firmware upgrading
System administrator - Monitoring status
Installer: Assigning IP addresses
You are an installer and have the responsibility to set the IP address of all newly installed Axis network video products. You also want to configure all the devices with the correct network settings.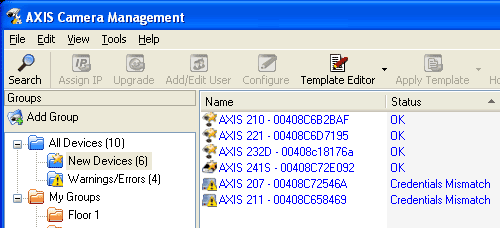 Solution
AXIS Camera Management automatically lists all new network video products on the network.
AXIS Camera Management will use the Master Password to access devices by default. The Master Password is only used to provide authentication when accessing a device and never to set the password in the device itself. Devices with other password settings than the Master Password appear with status "Credentials Mismatch" in the list and you enter the unique device password separately.
To assign IP addresses to multiple devices, you select the ones you want to configure, select "Assign IP.." and specify the range of IP addresses that can be used.
To configure the network settings, you use the Template Editor to save the appropriate parameter values. You then apply that template to the devices you choose.

Contracted maintainer: Firmware upgrading
You work as a contracted maintainer at a large company and are in charge of upgrading all network video products to the latest firmware version. The cameras are used for monitoring sensitive areas, and should be interrupted as little as possible.

Solution
When Axis has launched a new firmware version for one of the products you are using, you download the firmware file from the Axis Web site.
Using the AXIS Camera Management software, you select all units of that product model, select "Maintenance" | "Upgrade Firmware..." and locate the firmware file stored on your PC. To have as few devices as possible offline at a time, you choose to upgrade in Sequence mode.


System administrator: Monitoring status
You are a system administrator in a large organization. More than 100 network cameras are connected to the network. You are responsible for keeping the units accessible at all times. You want to handle the devices remotely from the central IT-department.
Solution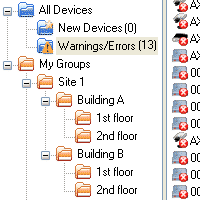 You have AXIS Camera Management installed on your PC. You have organized the network cameras into groups and subgroups according to their physical location.
The Warning/Error group allows you to quickly notice and take appropriate action in case a device requires attention. The "Not Accessible" status tells you that there might be a problem with the network connection or with the device itself.
Supported products
AXIS Camera Management supports the following Axis network cameras and video servers:
| | | | | |
| --- | --- | --- | --- | --- |
| | AXIS 206 | AXIS 212 PTZ | AXIS 231D+ | AXIS 242S IV |
| | AXIS 207 | AXIS 213 PTZ | AXIS 232D+ | AXIS 243SA |
| | AXIS 207W | AXIS 214 PTZ | AXIS 240Q | |
| | AXIS 207MW | AXIS 216FD | AXIS 241Q | |
| | AXIS 210 | AXIS 216FD-V | AXIS 241QA | |
| | AXIS 210A | AXIS 221 | AXIS 241S | |
| | AXIS 211 | AXIS 223M | AXIS 241SA | |
| | AXIS 211A | AXIS 225FD | | |
The devices must have firmware 4.03/4.10 or higher installed.
AXIS Camera Management also has limited support for the AXIS 292 Network Video Decoder and supports the following discontinued products: AXIS 206M, AXIS 206W.