AXIS 295 Video Surveillance Joystick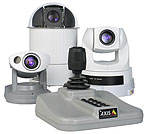 Easy to install and configure using USB interface
Durable high quality joystick
X/Y-axis for positioning and turning handle for zoom
12 programmable push-buttons:
2 on handle and 10 on base housing
Cost-efficient solution for control of Axis PTZ and dome cameras
AXIS 295 is designed for applications developed for video surveillance systems. The sensitivity allows for fast, flexible and secure operation with Axis network cameras with pan, tilt and zoom functionality.
Seamless integration
The AXIS 295 has a three-axis Hall-effect joystick, 12 programmable push-buttons and USB interface. It integrates seamlessly with any video surveillance software platform recognizing joystick inputs via Microsoft's DirectX. Easy to install, you just connect the joystick to the USB port on your computer and control the cameras.
Dimensions
156 x 169 x 126 mm (6.15" x 6.65" x 4.97").
Joystick specification
Joystick travel: X/Y-Axes: ±18° Z-Axis: ±40°
Centering: single spring, omni-directional
Housing: high impact ABS
Handle: high impact glass reinforced nylon
Boot: thermoplastic rubber
Shaft: stainless steel
Suitable for right-and left-handed use.
Cameras Supported
The AXIS 295 Video Surveillance Joystick supports the following Axis PTZ and dome cameras:
AXIS 212 PTZ Network Camera
AXIS 213 PTZ Network Camera
AXIS 214 PTZ Network Camera
AXIS 231D+ Network Dome Camera
AXIS 232D+ Network Dome Camera
Note: The AXIS Media Control (AMC) is needed for all products except the AXIS 231D+/232D+.
Download the AXIS 295 Video Surveillance Joystick data sheet