AXIS Pendant Dome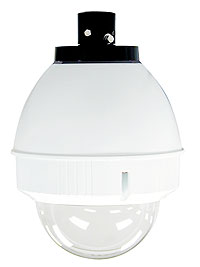 Weatherproof your Axis network cameras
The AXIS Pendant Dome protects Axis network cameras in outdoor environments as well as indoor conditions that may be humid, cold or dusty.
The housing provides IP66-class protection from dust and water ingress. With fan-assisted heating, the housing enables the camera to operate in temperatures down to -4¢ª F (-20¢ª C).
The dome ships with an optically clear polycarbonate lower dome that can be replaced with a tinted version. The housing provides an internal protective passage for cables and is easy to install on ceilings and walls.
The following network cameras will fit in the AXIS Pendant Dome: AXIS 213 PTZ, AXIS 214 PTZ, AXIS 231D and AXIS 232D.
Features:

Indoor and outdoor installation
Operating temperature down to -4¢ª F (-20¢ª C)
IP66-class protection from dust and water
Fan-assisted heater
Variety of mounting brackets available
Important note:
The product must be installed by a licensed electrician in accordance to local laws and regulations.
Download the AXIS Pendant Dome data sheet - PDF Version