Note: The devices must have firmware 2.34 or higher installed.
AXIS Camera Station also supports the following discontinued products: AXIS 205, AXIS 206M, AXIS 206W, AXIS 2100, AXIS 2110, AXIS 2120, AXIS 2130, AXIS 231D, AXIS 232D, AXIS 2420, AXIS 2400, AXIS 2400+, AXIS 2401, AXIS 2401+ and AXIS 2411.
Viewing only: AXIS 230, AXIS 250S
The Axis Surveillance Kits consists of four Axis network cameras and one AXIS Camera Station software with licenses for 4 network cameras/video servers.
System overview: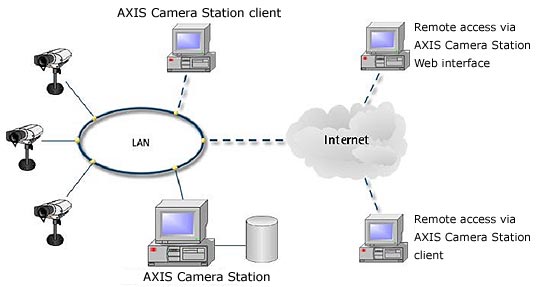 The AXIS Camera Station software runs as a Windows Service in the background on a dedicated PC. It supports up to 25 cameras and allows live viewing of up to 16 cameras simultaneously. Since remote viewing and playback are possible with the use of a Web browser or with the AXIS Camera Station's Windows client, there is no need to be at the PC that is doing the actual recording. The Windows client also enables remote administration of the software.
| | | | | |
| --- | --- | --- | --- | --- |
| | Live viewing | Playback | Administration | Background recording service |
| AXIS Camera Station | | | | |
| AXIS Camera Station Client | | | | |
| AXIS Camera Station Web interface | | | | |
See also installation scenarios for more details.
Download the AXIS Camera Station data sheet

User interface:
Main view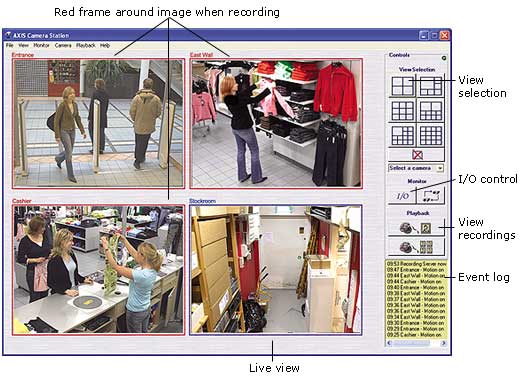 Administration - Recordings
Define settings such as:
motion detection

input/output signals to trigger recordings

saving recorded images on hard disk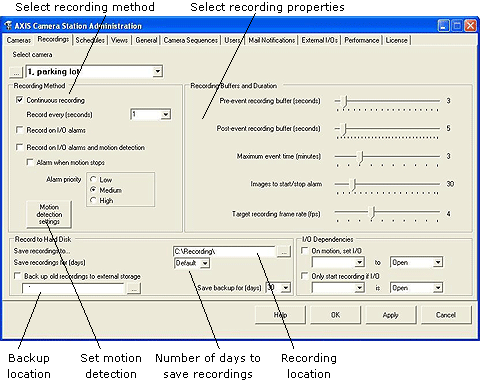 Administration - Motion detection
Define a grid to select the parts of the image to scan for motion.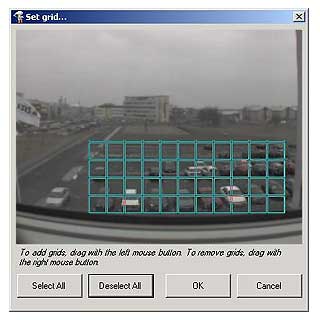 Set the sensitivity level of the motion detector.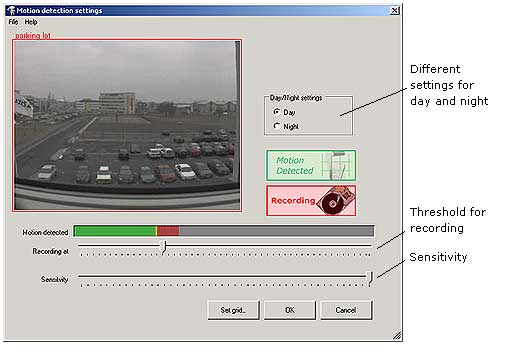 Administration - Schedules
Schedule recordings, triggered by alarms or motion detection and define how to notify users about alarms.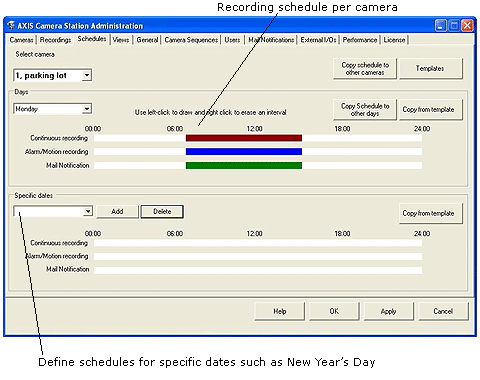 View recordings
The AXIS Camera Station software provides a multi-view playback feature that enables a user to view simultaneous recordings from different cameras to get a comprehensive picture of an event. The software also enables users to print, mail and save events or ZIP the events for later use or storage. Users can also search for recordings with motion in a selected area of an image.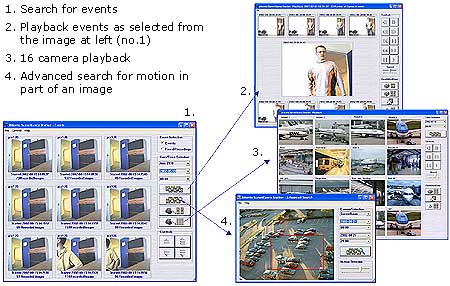 AXIS Camera Station Web interface
A normal web browser such as Internet Explorer can be used on client workstations to view cameras and recordings remotely from anywhere on the Internet.
Enter http://server IP address/videoweb in the address field.
Example: http://10.13.6.128/videoweb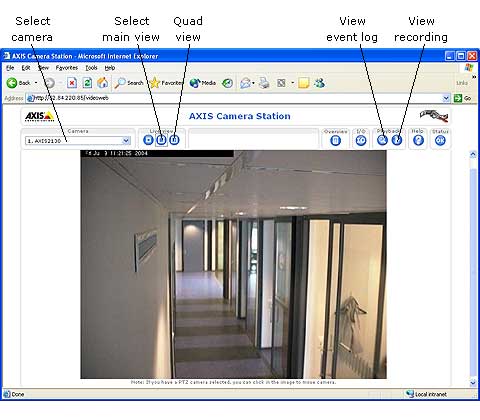 AXIS Image Enhancer:
An integrated component of AXIS Camera Station, which improves image quality in poor visibility conditions.

Original image taken on a foggy day using an AXIS 213 PTZ Network Camera


Image with the use of the
AXIS Image Enhancer
AXIS Image Enhancer is a remarkable software that improves the quality of images taken in conditions such as fog, smoke, rain and snow. Applied to live or recorded color video, it delivers real-time results and displays visual details that would otherwise have been difficult to see under poor visibility conditions.
Based on advanced mathematical algorithm, the AXIS Image Enhancer provides results far superior to simply adjusting brightness and contrast. Video is shown without distorting elements.
The AXIS Image Enhancer is ideal for remote monitoring or surveillance situations where image clarity is needed for a safe and smooth operation, such as securing parking lots, harbors, airports, road tolls and other facilities.
The unique AXIS Image Enhancer functionality within the AXIS Camera Station software is activated with a separate license key. It works with color digital or analog video sources, operates with all Axis network cameras and video servers except MPEG-2 products and supports full frame rate for live viewing.
Features:
Improves image quality in fog, smoke, rain and snow; extend visibility in harbors, airports, roads and tunnels
Superior results compared with brightness/contrast adjustments; optimal image enhancement is achieved with video taken between dawn and dusk
For use with live or recorded color only video (Supports all Axis network cameras and video servers except MPEG-2 products)
Ideal for outdoor cameras
Add-on functionality that is integrated into AXIS Camera Station (version 1.20 and higher) and activated with a separate license key
License keys can be purchased in packages of 1 and 5 from your nearest reseller. One AXIS Image Enhancer license is required per video channel.