AXIS 240Q Video Server
Digital benefits for analog surveillance systems
The AXIS 240Q Video Server is designed for surveillance applications. It provides easy integration with traditional analog systems, ensuring a smooth migration toward an IP solution.
The AXIS 240Q digitizes analog video into crisp, real-time Motion JPEG video streams at a maximum frame rate of 6/5 frames per second on each channel independent of resolution.
Combining your analog camera investments with a network video solution gives you a flexible and cost-effective solution with plenty of room for growth. With an open standard interface, the AXIS 240Q supports a large base of existing applications and integrate easily with new ones.
The AXIS 240Q offers advanced event handling with video motion detection, I/O control and alarm notification. Pan/tilt/zoom cameras may be connected to the unit's serial port and are easily controlled from a user interface. Security features include multiple user access levels with password protection, IP address filtering and HTTPS encryption.
The AXIS 240Q can connect up to four analog cameras and transmit digital video from all four channels simultaneously via an Ethernet connection.
For surveillance installations that require many AXIS 240Q units, the blade version of the video server is available for use with the AXIS Rack Solution.

Features:
High quality Motion JPEG video at 6 (NTSC) or 5 (PAL) frames per second per channel
Multiple resolutions and compression levels
Advanced event handling includes built-in video motion detection with multiple ways of notification via e-mail, TCP and HTTP, and video uploading via e-mail, FTP and HTTP
4 freely configurable alarm inputs and 4 outputs
3 MB pre/post alarm memory per channel
Support for Pan/Tilt/Zoom devices, uploadable PTZ drivers
Powerful Application Programming Interface for software integration, and flash memory to upload embedded applications
Image customization with text, time/date and image overlay
Support up to 20 simultaneous viewers
Optional accessories:
Wide range of video management software from Axis and its Application Development Partners
No need for power outlets and electrical cabling using Power over Ethernet products
AXIS Rack Solution for AXIS 240Q Blade versions
This product includes software developed by the OpenSSL Project for use in the OpenSSL Toolkit. (http://www.openssl.org)
Application possibilities:
The AXIS 240Q is ideal for security surveillance and demanding remote monitoring needs. It can be integrated with other systems such as access control and intrusion detection.
Government - Security for buildings and people. Law enforcement.
Banking & finance - Security for buildings and people. Law enforcement.
Education - Protect school building and equipment from vandalism and theft; improve safety for staff and students.
Retail - Surveillance of shopping centers and malls. Security for buildings and people. Consumer behavior research. Law enforcement.
Transportation - Airport and train station surveillance. Monitoring of flight arrivals in airport terminal building. Monitoring the traffic flow on highways. Law enforcement.
Industrial - Monitor manufacturing lines, industrial and pharmaceutical processes, automation, warehouse and stock control systems.
Download the AXIS 240Q data sheet

System overview:
The AXIS 240Q Video Server utilizes analog signals, which makes it ideal for networking existing analog systems. System integrators and installers can help customers with existing installations cross over to IP-based surveillance systems.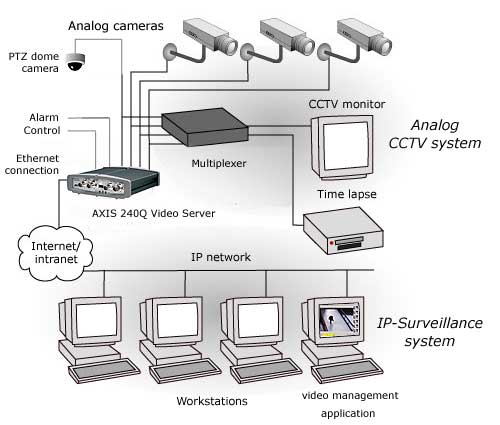 The AXIS 241Q provides four analog video inputs and transmits digital video from all four channels simultaneously via an Ethernet connection. For event handling, four freely configurable alarm inputs are provided.
Event handling:
Video servers with support for event handling can be configured to perform certain actions when certain types of events occur.
A scheduled event can be activated at pre-programmed times, in a repeating pattern on selected weekdays.
A triggered event can be activated from:
a switch (doorbell) connected to an input port on the video server
detected movement in a configured motion detection window
a lost signal from a video source
a manually activated action e.g. from an action button in the web interface
restart (reboot) after e.g. power loss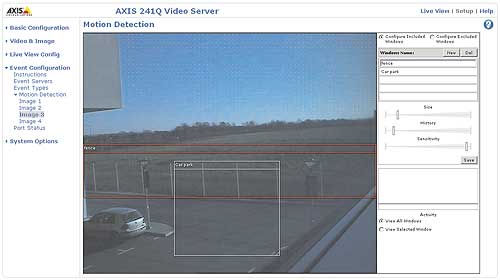 Example, car park: When a car passes past the connected camera, and an event has been configured to act on this, the video server can record and save video images to an FTP server or send a notification email to a pre-configured email address with a pre-configured message. The video images can be sent as an attachment with the email.