AXIS 231D Network Dome Camera
Ideal for professional surveillance applications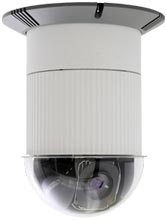 AXIS 231D
in hard ceiling mount

The AXIS 231D Network Dome Camera offers pan/tilt/zoom control over IP networks such as a LAN or the Internet. It is ideal for demanding surveillance and remote monitoring applications.

The AXIS 231D delivers superior quality Motion JPEG and MPEG-4 video in light conditions down to 0.3 lux. It features an 18x optical zoom, autofocus lens, with a fast and accurate pan/tilt function. As with all true domes, it enables a continuous 360-degree pan operation and supports 20 preset positions and guard tour. The AXIS 231D offers 4 alarm inputs and 4 alarm outputs, in addition to advanced event management functionalities. It also provides a complete set of security features such as HTTPS and IP address filtering. The AXIS 231D is perfect for professional security installations at airports, railway stations and prisons, as well as at warehouses, manufacturing facilities, shopping centers and school campuses.

Axis products are supported by the industry's largest base of video management software for managing and recording video, and integrating alarm and access control systems.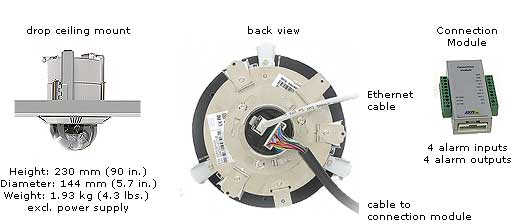 Features:
Full frame rate: up to 30/25 frames per second for all resolutions up to 704x480 (NTSC) and 768x576 (PAL)
Supports simultaneous streams of Motion JPEG and MPEG-4. De-interlacing in 4CIF resolution
Built-in 18x optical + 12x digital zoom lens with auto focus
Operates down to 0.3 lux (F1.4 - 30 IRE); provides useful video under most indoor or outdoor light conditions
Built-in video motion detection (the functionality is disabled during pan, tilt, zoom)
Scheduled and triggered event functionality with preset call-up and alarm notification via e-mail, TCP, HTTP and upload of images via e-mail, FTP and HTTP
I/O: 4 alarm inputs + 4 alarm outputs
Strong security package with HTTPS for encrypted communication, IP address filtering and multi-level password protection
SNMP (SNMPv1/v2c/v3 MIB-II) support for network management
20 preset positions, PTZ control queue, guard tour
Indoor ceiling mounts included
Optional accessories:
Outdoor Housing, providing IP65-rated environmental protection for outdoor use of Axis' network dome. Different mounting brackets are available
Wide range of video management software from Axis and its Application Development Partners
This product includes software developed by the OpenSSL Project for use in the OpenSSL Toolkit. (http://www.openssl.org)
Application possibilities:
The AXIS 231D is ideal for security surveillance and demanding remote monitoring needs. It can be integrated with other systems such as access control and intrusion detection.
Government - Security for buildings and people. Law enforcement.
Banking & finance - Security for buildings and people. Law enforcement.
Education - Protect school building and equipment from vandalism and theft; improve safety for staff and students.
Retail - Surveillance of shopping centers and malls. Security for buildings and people. Consumer behavior research. Law enforcement.
Transportation - Airport and train station surveillance. Monitoring of flight arrivals in airport terminal building. Monitoring the traffic flow on highways. Law enforcement.
Industrial - Monitor manufacturing lines, industrial and pharmaceutical processes, automation, warehouse and stock control systems.
Download the AXIS 231D data sheet

Product interface:
Below is a snapshot of the Web interface for the AXIS 231D Network Dome Camera.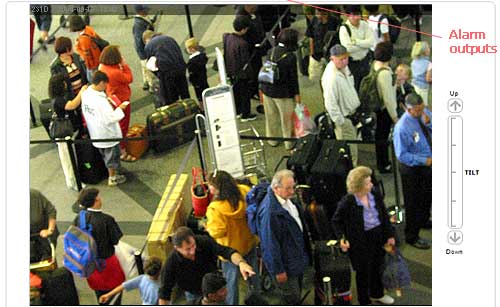 The AXIS 231D provides 360-degree continuous rotation, 90-degree tilt, 18x optical zoom and 20 preset positions and one sequence for quick pan/tilt/zoom to specific areas of interest.
What you need:

A regular straight Category 5 or 6 Ethernet cable
An available port on your hub, switch or router
Installation methods:
The AXIS 231D is designed for installation on an Ethernet network. This involves assigning it an IP address, automatically or manually. Depending on how your network is configured, the following methods may be used:
UPnP (Universal Plug and Play)
AXIS IP Utility for Windows
From a command prompt, arp -s and ping may be used