AXIS 225FD Fixed Dome Network Camera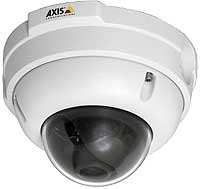 Professional video surveillance in tough conditions
AXIS 225FD Fixed Dome Network Camera is a high-performance, progressive scan, day/night camera for professional surveillance. Its discreet, vandal-resistant and outdoor-proof design with built-in heater and fan provides maximum protection in tough conditions.
The AXIS 225FD delivers crisp, clear images even of objects moving at high speed in the dark, constitutes the perfect solution for securing harsh environments over the network.
Built-in Power over Ethernet allows the camera to receive both data and power over a single Ethernet cable. This makes the installation easier and cheaper, and means that the camera can operate even when there is a power failure, if connected to a central Uninterruptible Power Supply (UPS).
Features:
Vandal-resistant, outdoor-proof design for maximum protection
Superior image quality with progressive scan and Day/Night functionality
Power over Ethernet (IEEE 802.3af) for reduced cabling and consolidated power
Simultaneous Motion JPEG and MPEG-4 for optimized quality and bandwidth
Up to 30 frames per second in VGA 640x480 resolution
Multi-window motion detection with alarm image buffering
Powerful event management including video motion detection, inputs/output for connecting e.g. external sensors and relays to activate light or open/close doors
Image upload and notification over FTP, e-mail and HTTP, with 9 MB pre- and post alarm buffering
Serial port for data integration with e.g. an access control system
Security: Multi-level password protection, IP address filtering and HTTPS encryption for network security
SNMP (SNMPv1/v2c/v3 MIB-II) support for network management
Powerful Application Programming Interface (API) for software integration
Optional accessories:
Wide range of video management software from Axis and its Application Development Partners
With the use of Power over LAN Midspans, available in 1, 6 and 12-port versions, there is no need for power outlets and electrical cabling even if you do not have any Power over Ethernet-enabled switch
AXIS 292 Network Video Decoder
AXIS MPEG-4 Decoder 10-user license pack
Application possibilities:
Backed by the industry's largest base of software applications for video and alarm management, the AXIS 225FD is ideal for security surveillance and remote monitoring applications.
Education/government - Environments such as university campuses, schools or prisons, where vandal resistance is required.
Transportation - Outdoor- and semi-outdoor environments such as car park buildings, railway stations and warehouses.
Download the AXIS 225FD data sheet