AXIS 211A Network Camera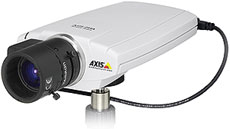 Professional video with two-way audio over networks
The AXIS 211A Network Camera is a professional network camera that lets remote users see, hear and speak over IP networks. It is suitable for surveillance and remote monitoring applications.
With a built-in microphone and the ability to connect to external speakers, the AXIS 211A Network Camera enables remote users to not only view, but also listen in on an area and communicate orders or requests to visitors or intruders. The network camera is an ideal choice for securing offices, shops and other facilities such as schools, university campuses and prisons. The product is supported by the industry's largest base of video management software for video and alarm management.
The AXIS 211A reduces cabling requirements and installation costs with its built-in support for audio and Power over Ethernet, enabling power to the camera and two-way audio to be delivered through the same network cable.


Features:
Superior image quality using progressive scan CCD sensor, which enables moving images to be presented without distortion.
Varifocal DC-iris lens
Light sensitivity down to 0.75 lux
Power over Ethernet (IEEE 802.3af) simplifies installation
Up to 30 frames per second in all resolutions ranging up to 640x480
Supports simultaneous Motion JPEG and advanced MPEG-4 video streams, allowing systems to be optimized both for image quality and bandwidth efficiency
Integrated two-way audio support (Built-in or external microphone)
Built-in video motion detection reduces network load and storage needs by uploading video only when change is detected
1 alarm input and 1 output for connecting external devices such as door sensors and relays to activate light or close doors
Scheduled and triggered event functionality with notification via e-mail, TCP, HTTP, and upload of images via e-mail, FTP & HTTP
Pre- and post-alarm image buffering: 9 MB (approx. 5 min. of 320x240 resolution video at 4 frames per second)
Powerful Application Programming Interface for software integration, and flash memory to upload embedded applications
Capability to insert privacy masking, custom logo or overlay image in the video stream
Supports up to 20 simultaneous users of which 10 with audio; virtually unlimited number of users if using multicast
Security: multi-user level password protection for restricted camera access, plus IP address filtering
Easy installation using the Windows-based AXIS Ip Utility software or AXIS Internet Dynamic DNS Service
Optional accessories:
Outdoor housings

Wide range of video management software from Axis and its Application Development Partners

With the use of Power over LAN Midspans, available in 1, 6 and 12-port versions, there is no need for power outlets and electrical cabling even if you do not have any Power over Ethernet-enabled switch

AXIS 292 Network Video Decoder (currently supports video only from the AXIS 211A; one-way audio support will be available in a free downloadable firmware upgrade in Q3 2005)

AXIS MPEG-4 Decoder 10-user license pack
Backed by the industry's largest base of software applications for video and alarm management, the AXIS 211A is ideal for security surveillance and remote monitoring applications.
Application possibilities:
Education - Protect school building and equipment from vandalism and theft; improve safety for staff and students

Retail - Protect staff and assets, verify transactions and cut down on false alarms

Offices - Keep an eye on entrances, reception areas or queues

Industrial - Monitor manufacturing lines, industrial and pharmaceutical processes, automation, warehouse and stock control systems
Download the AXIS 211A data sheet

System overview:
Cabling requirements and installation costs are reduced by the built-in support for Power over Ethernet and audio, enabling power to the AXIS 211A Network Camera and two-way audio to be delivered over the network.
| | |
| --- | --- |
| | Power over Ethernet enabled switch |
Audio modes:
Two-way audio modes:
Simultaneous audio in both directions...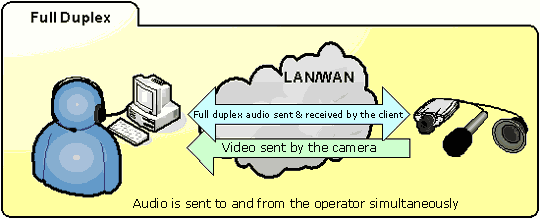 ...or one direction at a time for bandwidth efficiency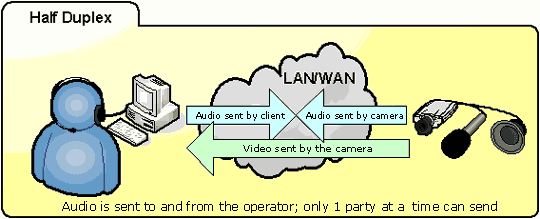 One-way audio modes:
Audio from camera to application...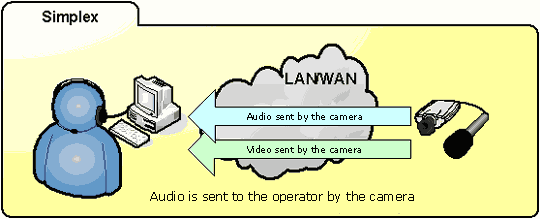 ...or in the opposite direction