AXIS Rack Solution
AXIS Rack Solution helps large, surveillance installations manage Axis video servers in a professional environment.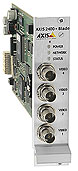 The solution consists of a 19-inch AXIS Video Server Rack, and any combination of AXIS 240Q, AXIS 241Q and AXIS 241S Blade Video Servers.
Designed for improved serviceability and quick replacement of units, the rack holds up to 12 interchangeable and hot-swappable blades, so there is no need to power down when installing or changing blades. The AXIS Rack Solution combines high reliability and functionality with quick, flexible and professional installation.
Solution components:
AXIS Video Server Rack, a 19-inch rack that provides 12 slots for the Axis blade video servers. The rack provides network, serial communication and I/O connectors at the rear of each slot, and a common power supply for the blade video servers.
Features:
Quick and professional installation of various video servers in the same rack

Expandable system, simply by adding blades and wiring up

Integrated power supply for easy installation/expansion, and easy addition of back-up power solutions

Higher density of video channels compared with stand-alone solutions

Improved serviceability and trouble-free unit replacement
Blade Video Servers:

Click on product links below for more details.
AXIS
240Q
AXIS
241Q
AXIS
241S
AXIS
250S
Channels
4
4
1
1
Video
Motion JPEG
Motion JPEG
MPEG-4
Motion JPEG
MPEG-4
MPEG-2
Max frame rate/ channel
6/5
(4CIF)
30/25¹
(CIF)
20/17¹
(CIF)
30/25
(4CIF)
30/25
(2CIF)
30/25
(4CIF)
Video motion detection
yes
yes
yes
no
Alarm inputs/
outputs
4/4
4/4
4/4
4/1
PTZ support
yes
yes
yes
yes
HTTPS
yes
yes
yes
no
Audio support
no
no
no
yes
Frame rate = NTSC/PAL
¹ Running 4 channels simultaneously
Application areas:
The AXIS Rack Solution is designed for applications involving a large number of cameras, both existing and new, as well as applications that cover large physical surveillance areas such as prisons, airports, large buildings, university campuses, subways and railway stations:
Government - Security of large buildings. Surveillance of prisons.
Education - Security of university campuses.
Transportation - Surveillance of airports, subways and train stations.
Industrial - Surveillance of logistics centers.
Download the AXIS Rack Solution data sheet