AXIS 241 Video Servers
Full-featured, digital benefits for analog systems
AXIS 241Q
(connects up to 4 analog cameras)



AXIS 241QA
(connects up to 4 analog cameras + two-way audio support)

AXIS 241
(connects 1 analog camera)

AXIS 241SA
(connects 1 analog camera + two-way audio support)
The AXIS 241 Video Servers are designed to migrate your analog systems to high performance, IP-based solutions, ideal for professional surveillance and remote monitoring applications.
The video servers accommodate one or four analog video streams, depending on the model. System integration and network utilization are optimized with sophisticated functions such as built-in motion detection, SNMP and simultaneous Motion JPEG and MPEG-4 streams. Powerful event management tools include image upload, alarm notification and I/O control. Pan/tilt/zoom control is done over the serial port, enabling PTZ and dome camera handling over the network.
A complete set of security features, including multiple user access levels, HTTPS encryption and IP address filtering, ensure secure video handling and configuration.
The AXIS 241 Video Servers offer a de-interlace filter that eliminates interlace artifacts from NTSC/PAL cameras. In addition, the AXIS 241QA/SA models provide one audio stream in each direction, enabling users to not only see, but also listen in on an area and communicate requests or orders.
For surveillance installations that require many AXIS 241Q/S, blade versions of the video servers are available for use with the AXIS Rack Solution.
Features:
High quality, de-interlaced video at 30 (NTSC) or 25 (PAL) frames per second per channel
Simultaneous Motion JPEG and MPEG-4 streams
Multiple resolutions and compression levels
Advanced event handling includes built-in video motion detection with multiple ways of notification via e-mail, TCP and HTTP, and video uploading via e-mail, FTP and HTTP
4 freely configurable alarm inputs and 4 outputs
9 MB pre/post alarm memory per channel
Support for dome cameras and Pan/Tilt/Zoom devices, uploadable PTZ drivers
Integrated two-way audio support (241QA/SA)
HTTPS encryption for network security
HTTP-based application programming interface (API) for integration with applications
Image customization with text, time/date and image overlay
SNMP (SNMPv1/v2c/v3 MIB-II) support for network management
Support up to 20 simultaneous viewers (unlimited with MPEG-4 multicast)
Optional accessories:
Wide range of video management software from Axis and its Application Development Partners
No need for power outlets and electrical cabling using Power over Ethernet products
Y/C connection cable for connecting a S-VHS video source, in order to improve the picture quality (AXIS 241S only)
AXIS Rack Solution for AXIS 241Q/S Blade versions
Application possibilities:

The AXIS 241Q/S is ideal for security surveillance and demanding remote monitoring needs. It can be integrated with other systems such as access control and intrusion detection.
Government - Security for buildings and persons. Law enforcement.
Banking & finance - Security for buildings and persons. Law enforcement.
Education - Security for buildings and persons. Broadcasting of experiments, sport events, art exhibitions etc.
Retail - Surveillance of shopping centers and malls. Security for buildings and persons. Consumer behavior research. Law enforcement.
Transportation - Airport and train station surveillance. Monitoring of flight arrivals in airport terminal building. Monitoring the traffic flow on highways. Law enforcement.
Industrial - Security for buildings and persons. Process monitoring. Remote meetings with branch office staff. Law enforcement.
This product includes software developed by the OpenSSL Project for use in the OpenSSL Toolkit. (http://www.openssl.org)
Integration with CCTV systems
The AXIS 241Q/S Video Server utilizes analog signals, which makes it ideal for networking existing analog systems. System integrators and installers can help customers with existing installations cross over to IP-based surveillance systems.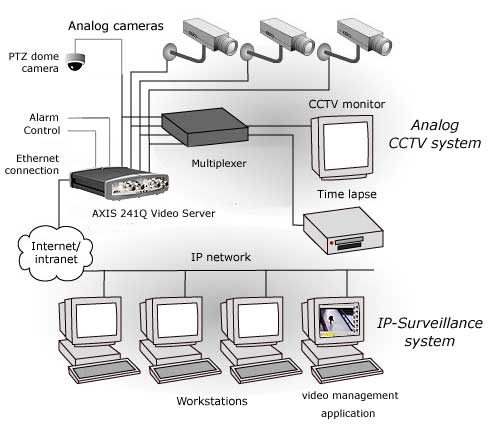 The AXIS 241Q provides four analog video inputs and transmits digital video from all four channels simultaneously via an Ethernet connection. For alarm handling, four freely configurable alarm inputs are provided.
Download the AXIS 241 data sheet

Technical specifications
General

• Motion JPEG based video server with 1 or 4 channels
• Built-in web server
• Supports full frame rate on all channels simultaneously

System requirements

The following specification applies to the use of browser based viewing. If using application software, please refer to specifications provided with the software.
• Operating Systems: Most Windows versions (such as Win98, Win2000 and XP), Linux*, Unix*, Mac OS*, Mac OS X*
• Browsers: Most versions of Microsoft Explorer, Mozilla, Netscape*, Opera*
• PC Hardware: Meeting the specification for selected operating system and browser
* Limitations in functionality

Hardware and System

• AXIS ETRAX 100LX 32bit RISC CPU
• AXIS ARTPEC-2 video compression chip + 8/16MB RAM (241S/241Q)
• Linux 2.4 kernel
• Watch Dog functionality 1
• 32/64 MB RAM (241S/241Q)
• 8 MB Flash
1) Can be linked to alarm output for external trig.

Connections

• Network: 10Base-T/100Base-TX Ethernet networks (RJ-45)
• Serial communication: RS-232 (DB-9) & RS-485 (terminal block)
• I/O: 4 alarm inputs + 4 outputs (terminal block)
• Video: Analogue composite video input/s (BNC), 241S supports Y/C video
• Power: 9 VDC / 9 W - external Power Supply, included 2
• Alternative input voltage 7-20V DC, min 7W

Video

• Color & Black/White
• Frame rate: 25/30 frames per second per channel
• Video compression: Motion JPEG
• Supports 10 different resolutions in both PAL and NTSC
• Max resolution: 768 x 576
• 5 video compression levels The file size of a JPEG image depends on factors such as selected resolution, compression level and the actual content of the image.

Security

• Multi user level password protection for restricted camera access
• IP address filtering
• HTTPS Encryption

Functions

• Built-in Video Motion Detection • Scheduled and triggered event functionality with alarm notification via e-mail, TCP, HTTP and upload of images via e-mail, FTP & HTTP
• 9MB pre/post alarm memory/channel
• Image customization with text, time/date and image overlay
• Flash memory provide ability to upload embedded applications and PTZ drivers
• HTTP/TCP access to serial port peripherals
• Up to 20 simultaneous users

Firmware updates

• Flash memory allows firmware updates over the network using HTTP or FTP over TCP/IP. Firmware upgrades are available from www.axis.com

Customer Applications

• Application Integration Interfaces
- AXIS HTTP API
- AXIS Media Control development tool

Operating conditions

• Temp: 5-50 ºC (41-122 ºF)
• Humidity: 20-80% RHG

Dimensions and weight

• Height: 42 mm (1.7")
• Width: 140 mm (5.5")
• Depth: 155 mm (6.1")
• Weight: 540 g (1.2 pounds)
(excl. power supply)

Approvals

• EMC:
- CE Compliant according to: EN55022/1998 Class B, EN55024/1998, EN61000-3-2: 2000, EN61000-3-3:2000
- FCC Subpart B, Class A, B
- VCCI Class B
- C-tick AS/NZS 3548
• Safety: EN60950, UL, CSA (Power supply only)

Included accessories

• Power Supply
• Mounting brackets
• Connector kit
• User Manual

Available Accessories (not incl.)

• AXIS Camera Explorer – a software that provides an easy way to select and view multiple cameras, save snapshots etc
• AXIS Camera Recorder – a professional way to monitor and record up to 16 cameras. Review and export recorded material without interrupting an ongoing recording
• S-VHS connector cable 2
2) Only AXIS 241S
This product includes software developed by the OpenSSL Project for use in the OpenSSL Toolkit. (http://www.openssl.org)