AXIS 206 Network Camera
The smallest network camera in the world
The AXIS 206 Network Camera offers a cost-effective, indoor camera solution for remote monitoring and security surveillance over a local area network or the Internet. The camera is ideal for use in small and mid-sized businesses and homes.
Small enough to fit in the palm of your hand, the AXIS 206 delivers crisp and clear images using progressive scan CMOS image sensors and advanced signal processing techniques. The AXIS 206 provides Motion JPEG images at up to 30 frames per second in all resolutions up to VGA 640x480 pixels. It can operate in light conditions as low as 4 lux.
The AXIS 206 is easy to set up and use. It comes with the free AXIS Internet Dynamic DNS Service, a multilingual product interface, a built-in Web server for remote viewing and management, and the AXIS Camera Explorer software for multi-camera management on a PC or PDA. For more video and alarm management features, a wide range of application software is available from Axis and its Application Development Partners worldwide.
Features:
Superior image quality using advanced video processing and the latest high quality, progressive scan CMOS image sensor, which works in light conditions down to 4 lux at 8 frames per second
Up to 30 frames per second in all resolutions ranging up to 640x480
Built-in Web server enables the use of a standard Web browser for viewing and management
Up to 10 viewers can directly access the camera simultaneously; virtually unlimited viewers if streamed through an application server
Web product interface available in multiple languages: English, French, German, Italian, Spanish, Chinese, Korean and Japanese
Security: multi-user level password protection to restrict camera access
AXIS Camera Explorer application software included for easy viewing, management and recording
Easy installation using the free AXIS Internet Dynamic DNS Service or the Windows-based AXIS IP Utility software
Optional accessories:
Wide range of application software from Axis and its Application Development Partners.
Application possibilities:
Backed by the industry's largest base of application software for video and alarm management, the AXIS 206 is ideal for remote monitoring and security surveillance over the local area network or the Internet.
Retail - Protect staff and assets, verify transactions and cut down on false alarms
Offices - Keep an eye on entrances, reception areas or queues
Industrial - Monitor manufacturing lines, industrial and pharmaceutical processes, automation, warehouse and stock control systems
System overview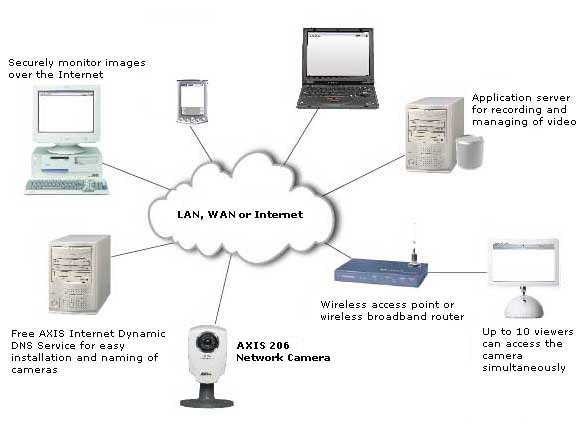 What you need:
A regular straight Category 5 or 6 Ethernet cable
An available port on your hub, switch or router
For WLAN (802.11b) connection, use an 802.11b Wireless Device Point plus 802.11b Wireless Access Point or wireless broadband router
Installation methods:
The AXIS 206 is designed for installation on an Ethernet network. This involves assigning it an IP address, automatically or manually. Depending on how your network is configured, the following methods may be used:
AXIS Internet Dynamic DNS Service at www.axiscam.net
UPnP (Universal Plug and Play)
AXIS IP Utility for Windows
From a command prompt, arp -s and ping may be used
On a mac, simply go to 'My network devices' in the Safari browser
Download the AXIS 206 data sheet

Technical specifications:
System requirements

The following specification applies to browser based viewing. When using an application software, please refer to specifications provided with the software.
Operating systems:
Windows (XP, 2000, NT 4.0, ME, 98), Linux, UNIX*, Mac OS X
Web browsers:
Windows - Internet Explorer 5.x or later, Mozilla 1.4* or later and Netscape
Hardware:
Meeting the specifications for selected operating system and browser
* Limited functionality

Hardware and System

• 32-bit RISC CPU
• Motion JPEG compression chip
• Linux 2.4 kernel
• 16 MB RAM
• 4 MB Flash
• Lens: 4 mm, F 2.0, fixed iris
• Field of view: 55°

Connections

Network:
• 10BaseT/100BaseTX (Ethernet networks (RJ-45)
Power:
• 5.0-5.5 VDC / min 400mA - external power supply included

Video

• Color & Black/White
• Illumination: 4-10 000 lux
• Image sensor: 300 Kpixel 1/4" progressive scan CMOS image sensor
• Image frame rate: Up to 30 frames per second for all resolutions
• Image compression: Motion JPEG and individual JPEG
• Resolution range:
640x480, 320x240, 160x120
• Various levels of compression
• Network bandwidth usage limitation control


Resolution
JPEG compression level
Low
Medium
High
Very high
640x480
55
35
20
16
320x240
18
12
8
5
160X120
8
5
3
3

The file size of a JPEG image depends on factors such as selected resolution, compression level and the actual content of the image. The above chart contains typical image file sizes in kilobytes captured during normal daytime indoor office lighting levels.

Security

• Multi user level password protection for restricted camera access

Functions

• Built-in Web server; does not require any additional hardware or software to operate
• Supports time synchronization with a NTP server (Network Time Protocol)
• UPnP
• Text, date and time overlay
• Support for up to 10 simultaneous users
• Free AXIS Internet Dynamic DNS Service (One-Click installation)
• Ability to view and save snapshots
• Rotate image 180º

Firmware updates

• Flash memory allows firmware updates over the network using HTTP or FTP over TCP/IP. Firmware upgrades are available from www.axis.com

Customer Applications

• Compliance with the AXIS HTTP API for application developers and system integrators

Operating conditions

• Temp: 5-40 ºC (41-104 ºF)
• Humidity: 20-80% RHG
• Indoor use

Dimensions and weight

• Height: 85 mm (3 1/3")
• Width: 55 mm (2 3/16")
• Depth: 34 mm (1 1/3")
• Weight: 177 g (6 1/4 oz) incl. adjustable stand

Approvals

• EMC:
- FCC Class A, B
- EN55022:1998 Class B
- EN61000-3-2:2000
- EN61000-3-3:1995
- EN55024:1998
- VCCI Class B
- AS/NZS 3548

• Safety:
- EN60950
- UL
- CSA

Included accessories

• Adjustable stand
• Power supply (AXIS PS-H)
• USB cable for set-up
• AXIS Camera Explorer – basic software for viewing and manual recording of multiple cameras

Available Accessories (not included)

• AXIS Camera Station – software for recording and management of up to 25 cameras. Advanced search tools, motion detection alarm and remote client included
• AXIS Camera Recorder – viewing and event-based recording of up to 16 cameras. Search tools and motion detection alarm included
• Wide range of application software from Axis' Application Development Partners.