General
• Network camera with built-in pan/tilt/zoom functionality
• Built-in Web server
• Supports simultaneous streams of Motion JPEG and MPEG-4*
• Supports both desktop and ceiling mounting
Functions
• Low light functionality using built-in IR lighting**
• 20 preset positions and 1 sequence
• PTZ control queue
• Support for 20 simultaneous direct viewers. Unlimited number of viewers using MPEG-4* and multicast, or via a relaying server
• UPnP support
• Advanced event management including up to 6 MB of pre- and post buffers for images
• Pan angle range: 340 degrees
• Tilt angle range: 100 degrees
Additional features when using Connection Module
• Support for full duplex audio
• Possibility to connect external devices
• Analog video output*** (PAL or NTSC)
System requirements
The following specifications apply to the use of browser-based viewing. When using an application software, please refer to the specifications provided with the software.
Hardware
CPU:
• Pentium III 500 MHz or higher, any AMD Athlon Memory****
• 128 MB RAM****
• Meeting the specification for selected operating system and browser
Graphic card ****:
• AGP card with Direct Draw support and 16 MB video memory (32/64 MB recommended for high resolutions/color depths)
Software
Supported operating systems:
• Windows XP****, 2000****, NT4.0, ME and 98, Linux
and Mac OS X
Supported Web browsers:
• Windows - Internet Explorer 5.x or later**** and Mozilla 1.4***** or later
• Linux - Mozilla 1.4***** or later
• Mac OS X - Mozilla 1.4***** or later and Netscape 7.1***** or later
Hardware and System
• 1⁄4" Interlaced CCD
• Motorized zoom lens 3.5 - 91 mm, F1.6 – F4.0, horizontal viewing angle: 42 - 1.7 º
• Auto focus, 26x optical and 12x digital zoom
• AXIS ETRAX 100LX 32-bit RISC CPU
• AXIS ARTPEC-2 video compression chip + 8 MB RAM
• Linux 2.4 kernel
• 32 MB RAM
• 4 MB Flash
Connections
Connections Camera
• Network: 10BaseT/100BaseTX Ethernet networks (RJ-45)
• Power: 13 V DC/1.8 A (max)- external power supply, included
• Bus: 26-pin multi-connector (to Connection Module)
Connection Module (available accessory)
• Bus: 26-pin multi-connector (to camera)
• Audio: Mic in (3.5 mm jack) and Line out (3.5 mm jack)
• I/O: 2 alarm inputs + 3 relay outputs (connector block)
• Video: Analog composite video output*** (BNC)
Security
• Multiple user access levels with password protection
• IP address filtering
Video
• Color and black/white mode
• Video compression: Motion JPEG and MPEG-4*
• Operates down to 1 lux in normal mode and in complete darkness using built-in IR lighting**
• Frame rate: Up to 30/25 frames per second (NTSC/PAL)
• Supports 10 different resolutions including 4CIF, 2CIF, CIF and QCIF
• Max resolution: 768 x 576 (PAL) or 704x480 (NTSC)
• Configurable backlight compensation, exposure, white balance, etc
• 5 video compression levels
The file size of a JPEG image depends on factors such as selected resolution, compression level and the actual content of the image.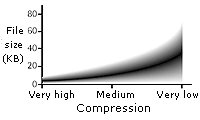 Firmware updates

• Flash memory allows firmware updates over the network using HTTP or FTP over TCP/IP. Firmware upgrades are available from www.axis.com

Custom Applications

Designed for system integration and custom application development by providing:
• AXIS HTTP API
• AXIS Media Control SDK
• Embedded scripting support
• Customized HTML pages

Operating conditions

• Temp: 5 - 40 C (41 - 104 ºF)
• Humidity: 20 - 80% RHG

Dimensions and weight

• Height: 130 mm (5.12")
• Width: 104 mm (4.09")
• Depth: 130 mm (5.12")
• Weight: 700 g (1.55 lb) (excl. power supply

Approvals

• EMC:
- CE Compliant according to: EN55022/1998
Class B, EN55024/1998 A1:2001, EN61000-3-
2:2000, EN61000-3-3:1995 A1:2001
- FCC Part 15, Subpart B, Class B
- Canada ICES-003 Class B
- VCCI Class B
- C-tick AS/NZS 3548
• Safety:
- EN 60950, UL, CSA, PS<E>, AS, SISIR, GS, FIMKO (AC Adapter)

Included accessories

• Power supply
• Ceiling mount
• Rubber feet kit for desktop use
• Quick Installation Guide
• CD-ROM with software and User's Manual
• One encoding and one decoding MPEG-4 license*

Available Accessories (not incl.)

• AXIS 213CM Connection Module – provides duplex audio, I/O and analog video output***
• AXIS Camera Station – software for recording and management of up to 25 cameras. Advanced search tools. Remote client included
• AXIS Camera Recorder – viewing and event based recording of up to 16 cameras, search tools included
• AXIS Camera Explorer – basic software for viewing and manual recording of multiple cameras
• AXIS 292 Network Video Decoder (view only, no PTZ control)
• AXIS MPEG-4 Decoder 10 user license pack*
• IP65-rated Dome Housing for installation of the camera in outdoor or adverse, indoor environments

* MPEG-4 is available as a free software upgrade Q1 2005
** At distances up to 3 m (9.8 ft)
*** Available for ceiling mount only
**** MPEG-4 requirements
***** Limitations in functionality