Access Bank Family T1 and HDSL Products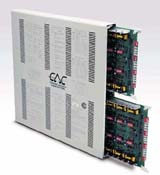 The Access Bank family offers a very high level of hardware and software integration, designed to integrate feature values and maintenance capabilities, while dramatically reducing equipment size, power, cost, and installation labor.
The Access Bank I offers digital connectivity for local and long distance carrier voice services, and converts a single T1 digital network access into 24 telephone circuits for voice, facsimile, modem, and private network connections. With digital loop carrier software, the Access Bank I/TR-08 provides direct digital connections to line-side services of Class 5 local switches. The Access Bank II expands on the voice functions of the Access Bank I and adds high-speed data ports and management for Internet or enterprise data connectivity, plus dual T1 line interfaces for increasing data speeds and connecting digital phone systems.
The Access Bank II/SDSL provides integrated voice and Internet access over a single network T1 using Symmetrical Digital Subscriber Line (SDSL) technology to deliver megabit-speed IP services from the network edge to the LAN. The Access Exchange is a customer-located access switch that enables long distance carriers to offer local services from their embedded base switching equipment. The products are used with optical fiber, HDSL on copper pairs, or digital radio.
Speedway™ Installation Kit (for Access Bank or Access Exchange units)
Your installation is literally a snap. This Kit uses locking tabs and pins, versus screws, to install up to two Access Bank or Access Exchange units. Customer installation tests have shown up to a 75% reduction in installation time, as well as up to a 45% smaller footprint.
Access Bank Voice Line Cards
FXS 12-Channel Voice Card
FXO/DPT 12-Channel Card
4 FXO + 8 FXS Modular Voice Card
4-wire E&M/TO
Access Bank Accessories