Access Bank II
Access Bank II/SNMP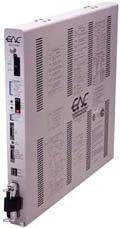 Operational Description
The Access Bank® II includes two T1 network interfaces with fully-integrated CSU/DSUs for over 3.0 Mbps of total bandwidth. The dual T1 interfaces can be utilized for any combination of voice and high-speed data services, automatic protection of T1 network connections, and drop and insert applications.
Six different types of 12-channel and 4+8 channel telephone line interface circuit cards provide a wide variety of analog line services such as FXS, FXSDN, SPOTS, PLARD, BRFXS, FXO, DPO, DPT, E&M, and TO. The Access Bank II operates with high-speed modems and automatically adapts to different lineconditions, providing a clear, echo-free transmission path.
In-service maintenance capabilities include hot swap line cards, line channel LEDs and fuseless protection of all line interfaces. Deployment time is minimized with simple configuration information printed on the case, along with DIP switches for manual activation of settings and test functions while on-site.
Configuration and tests are available through several management software options. For configuring, monitoring, and testing, a Windows®-based GUI program is included. In addition, an embedded SNMP Agent is accessed via a 10Base-T Ethernet port. Remote T1 management is available using Access Navigator™, without using customer bandwidth.
Carriers and end-users install the Access Bank II for multi-line voice plus high-speed data services, long distance access, branch office voice and data connectivity, protection of mission critical T1s and the integration of fax, modem, high-speed data and digital PBX connections on access T1s.
Access Bank II Features and Advantages
| | |
| --- | --- |
| Features | Advantages |
| 2 T1s with 2 CSUs (3.0 Mbps total) | More T1 bandwidth to network, T1 automatic protection, T1 drop to PBX, digital cross connect |
| T1, V.35, RS-232 and optional SDSL data interfaces | Data wiring and service demarcation options to solve any data deployment need |
| Ethernet, RS-232, and T1 Facilities Data Link (FDL) management connectivity | Provides both enterprise and remote carrier management of voice and data service delivery |
| Built-in T1 and data bit error testing | Remote service testing without extra equipment |
| Fuseless line protection, fanless cooling and solid-state signaling | Increases service availability and reduces truck rolls |
| Low power consumption with -48 VDC inputs and A.C. charger | Economical eight hour battery backup option increases service availability |
| Compact size, one rack unit | Saves space in wall or rack-mounted service installations |
| Wide variety of voice service line interface with programmable signaling and tests | Offers all voice service types for carrier and enterprise applications |
Optional Installation Kit
Speedway™ Installation Kit (for Access Bank or Access Exchange units)
Your installation is literally a snap. This Kit uses locking tabs and pins, versus screws, to install up to two Access Bank or Access Exchange units. Customer installation tests have shown up to a 75% reduction in installation time, as well as up to a 45% smaller footprint.
Technical Specifications
T1 Interface

Two T1s terminating 3.072 Mbps of usable bandwidth
Fully-integrated intelligent CSUs support diagnostic functions and DS1 or DSX-1 signal levels from 0 to -30dB with built-in CSU network loopbacks and QRSS for BERT fault isolation
D4 (SF) and ESF framing and conversion between T1 lines AMI or B8ZS line coding and conversion
Terminates and time slot interexchanges 24 analog interfaces and two data interfaces from either or both T1 lines
Clock source is internal enhanced Stratum 4 (master) or synchronized from either T1 line (Line1 or Line2)

Analog Interfaces

FXS 12-channel card - Supports CLASS® features, such as distinctive ringing and caller ID. Provides loop-start, ground-start, E&M signaling conversion and calling party disconnect.
BRFXS/DPO 12-channel card - Operates as a Battery Reversal FXS loop-start card (BRFXS) or a Dial Pulse Origination (DPO) card. Supports CLASS features, such as distinctive ringing and caller ID.
FXO/DPT 12-channel card - Operates in FXO loop or ground start signaling or Dial Pulse Terminate (DPT) signaling. CLASS features are supported. Provides E&M signaling conversion and calling party disconnect.4 FXO + 8 FXS - Supports 4 FXO/DPT circuits and 8 FXS circuits as described above.
4-Wire E&M/TO 12-channel card - Supports signaling types I, II, IV or V.
Uses up to four signaling and transmission pairs per channel (E/M, SG/SB, T/R and TI/RI)
2-Wire E&M/TO 12-channel card - Supports signaling types I, II, IV or V.
Uses up to three signaling and transmission pairs per channel (E/M, SG/SB and T/R).
Full compatibility with V.34 (33.6Kbps) and V.90 (56Kbps) modems.
Patented automatic two-wire analog impedance adjustment adapts to various modems and line lengths.

User Programmable Digital Cross Connect and Multiplexing Functions

User-programmable bandwidth allocations of voice and data
Two T1/CSU DS0 Digital Cross Connect (DCS) functionality - three frames maximum (0.375ms) T1 to T1 delay
One T1/CSU plus one T1/CSU D&I port
Enables ESF to D4 (SF) conversion for PBXs with T1 interfaces
T1 line fault alternate route remapping to second active T1 line without dropped connections (1x1 T1 single-ended Automatic Protection
Switching - APS)

Data Interfaces

Synchronous V.35 DCE data to 1.536 Mbps in Nx56 Kbps or Nx64 Kbps steps in any channel combination from 1 to 24 (P/N 005-0008 male, P/N 005-0014 female).
SDSL data option to 1.1 Mbps delivers full bandwidth over 12K feet withUTP wiring.
Synchronous RS-232 data at 56 or 64 Kbps (requires optional cable P/N 005-0001).
Asynchronous point-to-point RS-232 data at 9.6, 19.2, 38.4, and 57.6 Kbps (requires optional cable P/N 005-0001).
Built-in V.54 data loop code generation and detection for V.35 connection.

Management

RS-232 port and cable for local Windows® -based GUI management included SNMP and Telnet management via Ethernet port
Remote Facilities Data Link management over ESF T1 connections to Access Navigator products
Front panel T1 test switches and status LEDs Back panel analog channel option, test switches, and status LEDs

Alarms

Dial-out notification over modem attached to RS-232 management port.
SNMP alarm traps over Ethernet.

Compliance

FCC Part 68, CS-03 listed - telephone line interfaces
FCC Part 15, Class A Radiated Emissions Control
NRTL safety listed: UL 1459, CSA
National Electrical Code 1996 safety requirements
ANSI/TIA T1.403 and AT&T 54016 ESF reporting on Facility Data Link
AT&T 62411 (Stratum 4 enhanced T1 CPE)
NEBS Level 1

Power

-48 VDC @ 1A input from battery source
115Vac/75W power converter (P/N 730-0124)
Optional 220Vac/50Hz to -48Vdc converter module for international applications (P/N 730-0083)
Solid-state (fuseless) overvoltage and overcurrent protection
CPE Battery Backup System
Optional 120Vac to -48Vdc power converter/battery charger (P/N 730-0116) and battery unit (P/N 730-0114) for up to eight hours of uninterruptible power protection

Environmental

Normal operating temperature: 32ƒ F to 122ƒ F (0ƒ to 50ƒ C)
Solid-state over-temperature protection prevents damage to the unit
Relative humidity: 0 to 95%, non-condensing

Physical

Dimensions: 17" x 17.75" x 1.75" (43.2cm x 45.1cm x 4.5cm)
Weight: 14.5 lbs. (6.6 kg) fully loaded
Power converter/battery charger unit: 4" x 5" x 3.25", 6 lbs.
Battery backup unit: 17" x 6.25" x 3", 30 lbs.
Flush wall mount, desktop, or 19" rack mount (multi-function brackets included)
24 units can be mounted in a 7ft., 23" standard rack
Optional heavy-duty 19" (P/N 710-0041) or 23" (P/N 710-0130) rack mounting brackets with adjustable front-to-back offset
Optional Trimount bracket for wall mounting of three Access Banks and power converters (P/N 710-0002)
Optional Speedway™ Installation Kit (P/N 710-0007) [At
Optional Speedway™ Installation Kit, insert link to Kit Product Page.