WebBeacon

Superior Web-based Network Management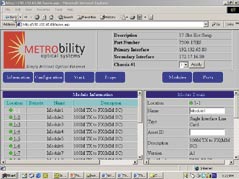 The R502-M Management Card includes a web kernel to provide browser-based management through WebBeacon. WebBeacon allows users to monitor link connections, environmental conditions, port activity and status, chassis temperature and voltage - one chassis at a time - via an Internet browser.

The R502-M Management Card is the SNMP agent for all Metrobility® chassis-based systems. The management card enables the collection and transmission of all chassis and individual board status.
Download the WebBeacon data sheet - PDF Version