Access Line Card and Optical Network Unit

R231 Access Line Card and RA21 Optical Network Unit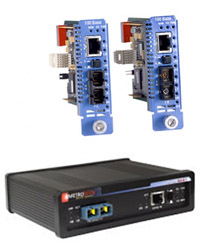 Access Line Cards provide the ability to reach across a metropolitan area network to communicate, test and reconfigure an unmanaged remote device, without reducing the available bandwidth to the customer site. These devices provide a high level of manageability — including dynamic bandwidth provisioning, remote loopback testing, real-time analog and RMON statistics. The Access Line Card gathers real-time data to provide critical, up-to-the-minute Quality of Line information on an Ethernet fiber link including optical receive power level measurement, optical transmit power level measurement, and Radiance voltage and temperature measurements.

This patented* technology utilizes a management channel embedded in the inter-packet gap (IPG) between Ethernet frames to send management information in real time across a network between two Access Line Cards or between an Access Line Card and an Access Optical Network Unit.

The innovative access line card technology does not require an IP address, or an SNMP software stack at each service subscriber (CPE), which greatly simplifies the installation. Because an IP address is not required at every access point, this solution 'scales' extremely well for large metro access service deployment, which could otherwise require the management of thousands to tens of thousands of IP addresses by the service provider. Further, network security is improved since no IP address exists to be 'attacked'.

Access Line Cards are supported in the Metrobility R5000, R1000 and R400 chassis and require NetBeacon 3.01 or above and the R502-M Management Card for reporting.
Benefits and Features
Quality of Equipment (QoE) Monitoring
Quality of Line (QoL) Monitoring
Quality of Optical Amplitude (QoOA)
Dynamic bandwidth provisioning in 1Mpbs increments