T6

All Layer Gigabit Switch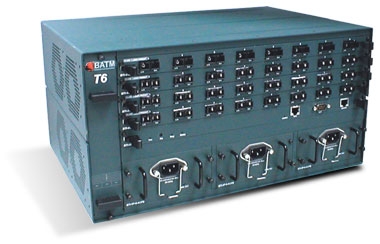 Telco Systems' T6 multi-layer IP switch delivers high-performance packet classification, switching, routing and transport for service providers and private enterprise. It supports up to 31 Gigabit Ethernet ports delivering full wire-speed, non-blocking performance. Its comprehensive policy enforcement and traffic shaping features efficiently manage precious network resources. In addition to this high level switching and routing, T6 also offers Gigabit interface converter modules with dual SC, LC and MT-RJ fiber interfaces, as well as GBIC and 1000BaseT.

T6 offers Layer 2 Ethernet switching and Layer 3 IP routing at full wire-speed over 48,000,000 pps. It is fully manageable via SNMP, CLI or the Web. The CLI has a common look and feel with other industry leaders and administration occurs via a well-known interface. Web management uses embedded Java ™-based management technology.
Download the T6 data sheet - PDF Version



Highlights
Scalable up to 31 Gigabit Ethernet copper or fiber ports
Non-blocking, wire-speed performance over 64 Gbps back plane
Wide range of optical and copper interfaces
Hardware-based Layer 2-7 switching and routing
Hardware-based QoS delivery through rate limiting and traffic shaping for dynamic bandwidth allocation
Policy-based traffic classification
ACL support for enhanced wire-speed network security
Transparent LAN services for end-to-end tunneling services
IEEE 802.3ad link aggregation to eliminate bottlenecks and enable port redundancy
Support of IEEE 802.1q VLAN tagging
IGMP multicast support implemented in hardware
NEBS compliant