GW-282S

Integrated Voice, Video and Data IP Gateway GW-282 Series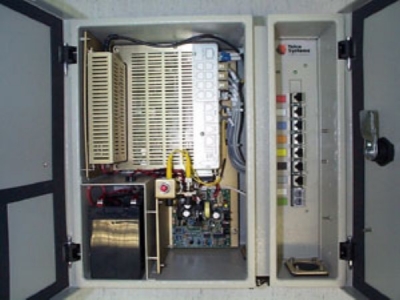 OutdoorIP Media Gateway for Voice, Video and Data services convergence and FTTH applications

BATM/Telco Systems GW-282 series Integrated IP media gateway is the most efficient, flexible, and powerful device in its class. It's capable of supporting various combinations of 2, 4 and 8 analog voice lines (VoIP FXS ports), 8 or 16 10/100BaseTX Ethernet ports and optical Fast/ Gigabit Ethernet uplink. The GW-282 gateways cover the spectrum of requirements for the enterprise VoIP environment and remote connectivity for Fiber-to-the-Home/Apartment (FTTH/A) applications.

Fiber-to-the-Home/Apartment (FTTH/A)

The GW-282's flexible architecture enables it to be the only IP gateway platform that supports a wide variety of optical fiber uplinks, it can be configured with either a Fast or Gigabit Ethernet transceiver. Unique advantage of the GW-282 is supporting Single Fiber using Bi-Directional transceivers, thus saving 50% on fiber cost.

Outdoor rugged solution
The GW-282 can be deployed indoors (residence or business) or outdoors in an environmentally controlled cabinet. This cabinet provides separate lock-secured access gateways for the Service Provider and end user. The cabinet is designed to support Automated Meter Reading and is equipped to support battery backup for providing Lifeline POTS. The outdoor version of GW-282 has optional support of RF video.

Voice (VoIP), Video and Data convergence

The GW-282 series is the ideal CPE solution for Service Providers looking to deliver voice, video and data over fiber to the end user. The GW-282 series support 802.1p QoS, 802.1q VLAN tagging, Spanning Tree Protocol and IGMPv2. The GW-282 supports all current VoIP signaling protocols including SIP, MGCP and H.323. Other protocols are optional and can be enabled. Soon, VoIP support will be delivered with an optional VoIP upgrade kit. This adherence to standards allows users to have maximum interoperability with existing network infrastructure.

Small Medium Enterprises (SME) usage

The GW-282 series is the ultimate solution for Small Medium Enterprises. Users can easily set up phone calls through the IP network while simultaneously using the gateway as a high-bandwidth enterprise network connection.

Manageability

GW-282 can be managed by SNMP, HTTP, Telnet, local terminal and download of configuration and new software by DHCP server. In addition, the GW-282 series, as all BATM/Telco Systems IP platforms, support BiNOSCenter, the BATM/Telco Systems EMS/NMS Element/Network Management System.
Download the GW-282S data sheet - PDF Version



Benefits and Features
Integrated Voice (VoIP), Video and Data IP media gateway
Indoor and outdoor (rugged) versions
Integrated 100/1000 Mbps fiber- SFP uplink variety including:



100BaseX of MM, SM and Bi-Directional
1000BaseX of pluggable SFP (miniGBIC)



Special options including: EPON, CWDM, DWDM
Voice ports – 2-, 4- or 8-port versions
Enhanced Video capabilities
Data 10/100BaseTX switched ports - 8- or 16-port versions
Full support for ITU H.323, MGCP and SIP, MEGACO optional
Enhanced L2 switching capabilities
Wire speed performance
Integrated Web server
Automatic tone generation: Dial, Busy, Ring-Back
DTMF detection and generation
Voice activity detection & prioritization
IGMP Snooping
Automatic configuration (BOOTP)
Remote maintenance
Special features on Outdoor unit:



Built in charger + Battery Back up
Extended temperature
Meter reading
Lifeline POTS
Many more...



Call Waiting
Caller ID display
3-way calling (Conference)
Last call redial
Distinctive Ringtones
Call transfer
DND (Do Not Disturb)
Call forwarding
Block/Accept last call
Redial last call
Auto Redial
Caller Identify on Call Waiting