BreezeACCESS 4900

Recently allocated for local public safety use, the 50MHz of licensed spectrum in the 4.940 GHz-4.990 GHz represents an important opportunity for local municipal groups to provide license-protected, secure access for a variety of public safety uses.
In designing the BreezeACCESS 4900, we leveraged our more than ten years as the market leader for wireless broadband systems. The result is a solution not only technically superior to other solutions on the market, but also one that can be integrated with the variety of fixed and mobile solutions, bringing public safety agencies unmatched capacity, range, and scalability, yet simple to deploy and install.
Capable of being deployed in both point-to-point and point-to-multipoint configurations, and able to co-exist with other systems in mixed spectrum architectures, the flexibility of BreezeACCESS 4900 enables each network to be tailored in its configuration to efficiently handle a multitude of applications. BreezeACCESS 4900 is now the solution of choice for public safety, medical emergency, government security and surveillance applications offering the industry's richest features:
Spectrally efficient, OFDM technology to support high capacity, non-line-of-sight connectivity
Always-on adaptive modulation, automatic transmit power control (ATPC), and automatic distance learning for optimal link transmission
Complies with the FCC high power mask requirements of 4.9 GHz
Supports both 5 and 10MHz channel options for flexible network planning for interference avoidance and increased network capacity
Mixed spectrum integration options for multi-band layering, including Wi-Fi integration enabling Commercial of the shelf devices at the network edge
Available 100% environmental outdoor form factor with ports for integration of other devices, such as video cameras, traffic systems, etc.
Advanced extensive access suite, including quality of service (QoS), security and extensive management
Best access unit (AU) for fast and simple customer premises equipment (CPE) installation-CPE scans the entire frequency band and identifies available AUs,optimizes the link with best AU selection, and offers a redundancy mechanism that automatically resynchronizes with next AU on the list
10 LEDs SNR bar display on outdoor unit for fast antenna alignment without the need for external tools or monitors
Superior management options using SNMP, the userfriendly BreezeCONFIG installation and monitoring utility, and the AlvariSTAR carrier grade NMS platform. Remote software upgrade and version control as well as remote configurations upload and download
Product System Diagram: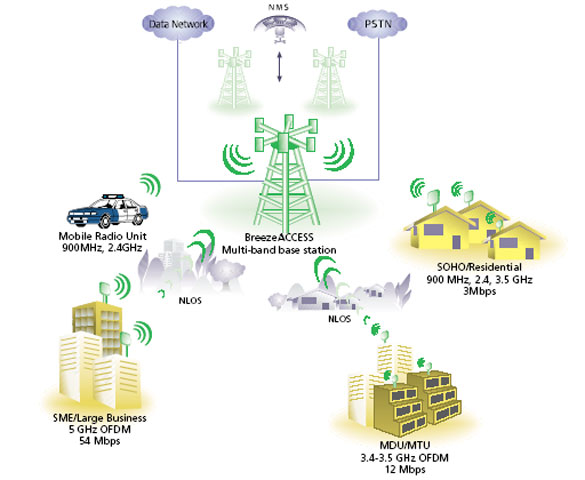 Customer Premises Equipment
Installed at locations that requires service, either backhaul or access connectivity, the CPE enables data connections to support single or multiple end user subscribers. CPEs provide an efficient platform for always-on, high-speed Internet, intranet services, or metro range wireless Ethernet to remotes devices. Each CPE connects to the network through a standard IEEE 802.3 Ethernet 10/100BaseT (RJ-45) interface and connects to the outdoor unit via CAT-5 cable. Each CPE includes a small indoor unit, CAT-5 indoor-outdoor cable, pole-mounted outdoor unit and integrated antenna.
SU-A-4900-BD (with integrated antenna)
SU-E-4900-BD (without antenna)
Access Units
Installed at the base station site, the AU communicates with some number of CPEs. For backbone connections, each AU connects to the network through a standard IEEE 802.3 Ethernet 10/100BaseT (RJ-45) interface, and towards the antenna, connects to the outdoor unit using standard CAT-5 cable. For a modular base station, the access unit can be installed in the universal BreezeACCESS 19" 3U chassis. Each chassis can hold up to six AU modules of any frequency band, providing reliable access to a maximum number of subscribers. Two power supply modules, either AC or DC, can be employed in the chassis for power supply redundancy.
Download the BreezeACCESS 4900 data sheet - PDF Version