BWA Overview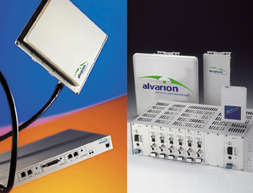 Service Provider and Carrier-grade BWA solutions in all popular licensed and license-free frequency bands offering integrated high-speed data and toll-quality voice services and cellular base station feeding applications.

We have harnessed its field-proven expertise in RF technologies and IP based wireless communications to deliver a variety of innovative, highly competitive Broadband Wireless Access solutions for high-speed access to voice, data and IP-based services. Our broadband wireless access solutions provide a superior alternative to Internet service providers as well as new and incumbent carriers seeking to effectively compete in a variety of lucrative market segments – from SME to SOHO, MDU/MTU and beyond.

With exceptional network capacity and coverage, classes of service options, carrier class equipment, and network management software, BreezeACCESS, MGW/eMGW and WALKair products provide the industry with premier solutions for ILECs, SNOs, ISPs, ASPs and cellular operators.

BreezeACCESS delivers high-speed data access and is an excellent alternative to wired access networks including ISDN, DSL and cable modems. BreezeACCESS allows carriers and new generation service providers to enjoy the benefits of "plug & play" subscriber installation, quick network deployment and an immediate return on investment.

BreezeACCESS enables service providers to deliver wireless broadband services that go beyond simple Internet access, including VLANs (Virtual LANs), VPNs (Virtual Private Networks) and VoIP (Voice over IP) telephony. The BreezeACCESS architecture is optimized to support high-speed wireless IP services including fast data access and telephony. Modular in design, BreezeACCESS allows for a low initial investment and is scalable for future growth.

Employing packet-switching technology, BreezeACCESS delivers always-on connectivity with dynamic bandwidth on demand, making it ideal for unpredictable Internet traffic.

The BreezeACCESS family of products includes: BreezeACCESS II for the unlicensed 2.4GHz ISM band; BreezeACCESS XL for exclusive licensed operation worldwide in the 3.5GHz band and in the 3.8GHz and 2.6GHz bands in Europe; and BreezeACCESS MMDS for licensed operation in the 2.5GHz band - US, Latin America and Asia.

Optimized for rural and suburban environments, the MGW delivers carrier-class voice, high speed voice band data (V.92) and ISN-BRI services. The MGW's modular and scalable configuration, enables incremental growth based on customer demand and a fast return on investment. Operating in a wide range of frequencies (800MHz - 3.8GHz), hundreds of thousands of MGW lines have already been successfully installed in over 60 countries.

The eMGW is a highly cost-effective point to multipoint broadband wireless access system optimized for SOHO and high-end residential markets. The eMGW provides fast Internet access, corporate access and carrier-class telephony in a single system. The innovative 'hybrid-switching' uses circuit switching for toll-quality voice and packet switching for fast data services, optimizing spectrum utilization.

Operating in the widest range of frequency bands (1.5-3.8GHz, 5.7GHz), the eMGW provides exceptional coverage for rural and suburban applications. The eMGW is based on our state of the art and field proven frequency hopping CDMA that ensures robust, secure and reliable service in a wide variety of deployment scenarios.

Targeting carriers serving growing SME markets in Europe, Latin America and Asia, WALKair is a Point-to-Multi-Point (PMP) broadband wireless access system that enables telecom operators to easily and cost-effectively connect last-mile business subscribers to their network. WALKair utilizes dynamic bandwidth allocation to maximize bandwidth capacity and offers the widest range of high-speed data and voice services at the lowest cost - an optimal solution for today's small and medium businesses in urban and suburban areas.

WALKair systems support all commonly allocated bands in Europe, Latin America and Asia, including 3.5GHz, 10.5 GHz, and 26GHz. They enable carriers to provide SMEs with always-on connectivity and a wide range of broadband-enabled services, including Internet, VPN and LAN interconnect access; VoIP, legacy telephony and data network access; and application sharing, video conferencing, web hosting and E-commerce. WALKair is also ideal for carriers that require cellular base station feeding applications as an integral part of their network.

The solution's support of multi-frequency bands, large-capacity base stations, feature rich applications and low infrastructure investment requirements, make WALKair a superior wireless access solution for carriers seeking to deploy networks in emerging markets that can provide quick and stable sources of new revenue.

The WALKair family of products includes: WALKair 1000 for the 3.5, 10.5 and 26 GHz licensed bands; and WALKair 3000 for the 26 GHz licensed band, which provides a high speed of up to 34 mbps per user and offers full integration and complete backwards compatibility with the WALKair 1000 for enhanced coverage, capacity and services.
Breeze2000™
Breeze2000™ is future proof, IP based CDMA 2000-1XRTT network that supports next generation networks (NGN) and provides wireless telephony and always-on data for mobile and fixed applications.
BreezeACCESS™ OFDM
Leveraging the excellent multipath resistance capabilities of OFDM technology, BreezeACCESS OFDM enables operation in near and non-line-of-sight (NLOS) conditions.


BreezeACCESS™ XL
BreezeACCESS XL, operating in the exclusive licensed bands, offers Carriers and next generation Operators a new-age solution for high speed Internet and carrier-grade voice services.


MGW
Low-cost, field proven FH-CDMA solution delivers toll quality telephony and voice band data services (fax G3, modem V.92). Optimized for residential and SOHO users, the MGW provides high Erlang capacity for suburban applications and long range coverage in rural environments.


eMGW
Spectrum efficient hybrid switching concept, delivers TDM toll quality telephony and DSL data services. The cost-effective field proven FH-CDMA solution is tailored for residential and small business users enabling high capacity in urban and suburban environments and long range coverage in rural areas.


WALKair 1000
WALKair 1000 offers a feature rich solution for carriers, reaching speeds of 4 Mbps (net payload). Operating in the 3.5, 10.5 and 26 GHz frequencies, WALKair 1000 supports a wide range of voice and data services.


WALKair 3000
WALKair 3000 is a state-of-the-art carrier-class product. Reaching speeds of 36 Mbps, WALKair 3000 is a superior product for carriers operating in all licensed frequencies. Some of the attractive options include IP QoS and fiber-optic quality voice.


BreezeACCESS™ MMDS
BreezeACCESS MMDS, operating in the 2.5 GHz band, allows MMDS license owners to offer broadband wireless access to the Internet and high quality voice services.