Point-to-Multipoint
A Complete, End-to-End Voice, Video and Data Transmission Solution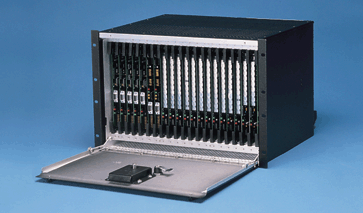 Features
Superior spectrum efficiencies by using QPSK, 16-QAM, and 64-QAM modulation techniques
Interference management through Automatic Power Control
Comprehensive network management through industry-standard SNMP messaging plus dial-out capabilities over standard phone lines
Extensive user and network interfaces and sophisticated built-in diagnostics for a lower cost of ownership
One-rack unit high, variable power source IDU provides up to 8T1/E1s in less space
Over-the-air downloads allow firmware enhancements without changing hardware or visiting sites
Supports both Frequency Division Multiple Access (FDMA) and Time Division Multiple Access (TDMA).
Superior technology and attractively priced
System Description
The Point-to-Multipoint (PMP) system is an advanced digital broadband fixed wireless access system and is a cost-effective solution for voice, data, video, and Internet communications. PMP is capable of supporting Asynchronous Transfer Mode (ATM) and Time Division Multiplexing (TDM) based services. PMP uses Frequency Division Multiple Access (FDMA) and Time Division Multiple Access (TDMA) technology combined with highly efficient 64-QAM modulation techniques to provide wireless access for multi-tenant buildings, small and medium size businesses, and PCS and cellular backhaul services.
The PMP system delivers end-user service from hub stations in cells that can extend up to 10 kilometers, depending on frequency, traffic, and availability demands. To provide up to 360° of coverage, each hub can have up to 24 sector subsystems, each with sector antennas and associated communications equipment.
The new high-capacity remote IDU contains all the necessary baseband electronics. Implementation is flexible and unsurpassed in reliability. The PMP system interfaces with existing PBXs, computers, LANs, routers, switches and bridges. In addition, highly efficient modulation schemes and dynamic power control enable extensive frequency reuse assuring maximum capacity and the highest degree of service.
Point-to-Multipoint Applications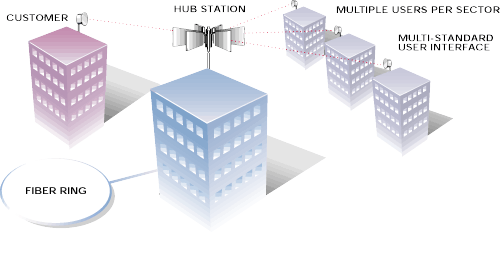 Specifications
System Specifications
SystemFrequency RangeTR/Separation
10GHz10.15-10.65 GHz350 MHz
24GHz24.25-25.25 GHz800 MHz
26GHz24.5-26.06 GHz1008 MHz
28GHz27.5-31.225 GHzFCC & Industry Canada
31GHz31.0-31.300 GHz225 MHz
38GHz38.6-40.0 GHz700 MHz
Transmitter
QPSK
16-QAM
64-QAM
10GHz
14 dBm
12 dBm
24GHz
22 dBm
20 dBm
18 dBm
26GHz
22 dBm
20 dBm
18 dBm
28GHz
22 dBm
20 dBm
18 dBm
31GHz
22 dBm
20 dBm
18 dBm
38GHz
20 dBm
18 dBm
16 dBm
Receiver @ 8 Mbps
QPSK
16-QAM
64-QAM
10GHz
-87 dBm
-83 dBm
-77 dBm
24GHz
-87 dBm
-83 dBm
-77 dBm
26GHz
-87 dBm
-83 dBm
-77 dBm
28GHz
-87 dBm
-83 dBm
-77 dBm
31GHz
-86 dBm
-82 dBm
-76 dBm
38GHz
-86 dBm
-82 dBm
-76 dBm
General
| | |
| --- | --- |
| Applicable Standards | FCC, CE Mark, ETSI, ITU-T, ISO, UL |
| Frequency Source | Digitally synthesized, software controlled |
| Modulation Type | |
| Downlink | QPSK, 16-QAM, 64-QAM |
| Uplink (FDMA) | QPSK, 16-QAM, 64-QAM |
| Uplink (TDMA) | QPSK, 16-QAM |
| | |
| FEC Encoding | Reed-Solomon |
Mechanical
Remote Dimension
| | |
| --- | --- |
| Outdoor Unit | 10" diameter x 6" depth |
| Indoor Unit | 1.75" x 17" x 17" |
Remote Weight
| | |
| --- | --- |
| Outdoor Unit | 10 lbs (4.5 kg) |
| Indoor Unit | 9 lbs (4.1 kg) |
IDU-ODU Interconnection
| | |
| --- | --- |
| No. of Cables | One |
| Impedance | 50 balanced |
| Recommended Cable | Times Microwave LMR-400 |
| Maximum Distance | Up to 1000 feet (300 m) |
| Connector Type | N-male |
Environmental
Temperature
| | |
| --- | --- |
| Outdoor Unit | -40°C to +60°C |
| Indoor Unit | 0°C to +40°C |
| | |
| Relative Humidity | |
| Outdoor Unit | 100%, all weather operation |
| Indoor Unit | 95%, non-condensing |
| | |
| Altitude | 15,000 ft. (4,500 m) |
Power Supply
Standard Input
| | |
| --- | --- |
| AC | 90 to 260 VAC |
| DC | -20 to 56 VDC |
Power Consumption
Capacity
| | |
| --- | --- |
| Remote | 40 Mbit/s |
| Sector | 200 Mbit/s |
| Base Station | 4,800 Mbit/s |
Interface Specifications
| | |
| --- | --- |
| Base Station | T1, E1, OC-3, OC-12 |
| Remote Terminals | T1, Fractional T1, E1, |
| | Fractional E1, Frame |
| | Relay, 10BaseT, |
| | POTS, ISDN, > |
Network Management
SNMP
HP Openview UNIX Platform
Remote and local software download
Performance Measurements: G.821, G.826, ITU-R Rec. 697-1