BreezeACCESS SU-M

The system enables ubiquitous and seamless mobile coverage of up to several miles radius per cell at a fraction of the cost of competing technologies. Deployed throughout North America, the solution allows public safety organizations (EMS, police, fire, etc.), transit entities, and other field workers to maintain high-speed Internet and LAN connections while on the move throughout entire cities and service areas. Customers report that workers connected via the BreezeACCESS SU-M increase their individual productivity between 2-3 hours per day, resulting in more field time, more efficient management of remote IT assets, shorter "time to arrest" cycles, and other benefits.
Unlike competing technologies that may require 16 or more nodes per square mile, the mobile BreezeACCESS solution can provide full outdoor coverage for three or more square miles per node, drastically reducing deployment costs. In addition, the system is designed for robustness first, recognizing the critical nature of public safety communications compared with the lower "best effort" threshold for community access technologies like Wi-Fi mesh. Yet, BreezeACCESS still enables cities and agencies to leverage low cost Wi-Fi-enabled devices at the edge.
The BreezeACCESS SU-M has been specifically designed to allow for ubiquitous coverage RF network planning. The unique air protocol is highly interference resilient, secure, and performs reliably in non-line-of-sight situations when utilizing the 900 MHz spectrum. The BreezeACCESS SU-M Mobile Data Terminal is a ruggedized subscriber unit powered by 9-18 volt DC and designed for in-vehical installation. It comes complete with Molex connector wiring harness, mobile antenna, and cable.

BreezeACCESS SU-M 900 Highlights:
Fully compatible with BreezeACCESS 900 & II base stations
A rugged, trunk-mountable radio unit
Assured operation using typical automobile power (9-18 VDC)
A design compliant with EN300 019-2-5 transportation specifications for shock, vibration, and environment
Robust anti-interference technology
A wireless connection to status utility for the PC
SNMP or Telnet management capabilities
An Ethernet 10BaseT connection to the PC
Wide coverage from a single unit lowers cost, complexity, and maintenance

BreezeACCESS SU-M II Highlights:

Seamless integration with BreezeACCESS infrastructure for fixed applications
Fully compatible with BreezeACCESS II & 900 solutions
Cost-effective Cell Extender (CX) architecture for fill in
Supports data rates up to 3 Mbps
Utilitizes frequency agility and time diversity for unmatched interference immunity
Support for diversity antennae (2.4 GHz model only)

Product System Diagram: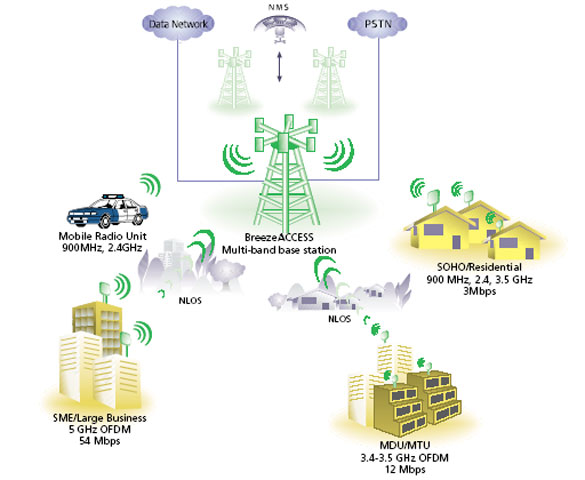 SU-M-8D-900
Wireless mobile data subscriber unit for public safety and other mobile applications.

SU-M5-2.4
Wireless mobile data subscriber unit designed for the Homeland Security marketplace.
Download the BreezeACCESS SU-M data sheet - PDF Version