BreezeMAX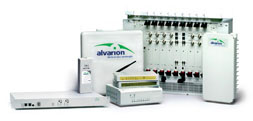 Commercially available since mid 2004, deployed by over 150 operators in more than 30 countries, BreezeMAX is the most advanced, field proven commercial WiMAX solution and the first to offer CPE powered with Intel PRO/Wireless 5116 broadband interface WiMAX chip.
Built from the ground up based on the IEEE 802.16-2004 standard, BreezeMAX supports fixed, nomadic and portable services with a clear path for the emerging WiMAX mobile industry based on the IEEE 802.16e standard. BreezeMAX is designed for a variety of frequencies in both licensed and license-exempt bands from 2GHz to 6GHz spectrum, and operates in both FDD and TDD duplex modes.
The system, with excellent sensitivity and market leading OFDM radio technology, is robust to operate in adverse channel conditions and non-line-of-sight links. With high power radios that support diversity and smart antenna techniques, BreezeMAX enables the use of indoor self-install CPEs in both dense urban and suburban environments.
BreezeMAX CPEs are powered by Intel's PRO/Wireless 5116 broadband interface chip and deliver broadband access services to a wide range of customers, including residential, SOHO, SME, large enterprise and multi-tenant customers.
Highlights:
WiMAX Platform

Field Proven by more than 150 operators

Deployed in over 30 countries

Fixed, Portable and Mobile Services

Self Install CPE

Modular scalable base station architecture

Wide Variety of Frequencies: 2 – 6 GHz

FDD/TDD and dual mode

Multi service with QoS

Best NLOS and coverage performance

Suitable for residential, Business, MDU/MTU, Hotspot Backhaul

Triple play: voice, data and multimedia services.
Base Station Equipment:
The BreezeMAX base station is a highly modular and scalable base station, available in both micro and macro sizes to ensure maximum cost efficiency. Both base station types share the following key attributes:
WiMAX-ready design for future support of WiMAXcertified mode
OFDM, OFDMA, smart antenna technology that enables indoor self install capabilities
Flexible and modular design with unmatched sharing capacity of one line card on four radio sectors spiraling up to the capacity of four line cards on one radio sector enabling capacity from 4.5Mb up to 72Mb per sector
Over 30km coverage
SNMP central management using AlvariSTAR™
BreezeMAX Macro Base Station

The macro base station is an 8U high cPCI shelf that fits in standard 19" or ETSI racks. The base station contains a network and radio modules, power supply and power feeding modules. All the modules are hot swappable and high availability can be provided through multiple redundancy schemes. Support for smart antenna techniques, including space time coding (STC), polarization diversity and maximum ratio combining (MRC) together with high power radios enable the operation of indoor self-install CPEs in dense urban and suburban environments.

BreezeMAX Micro Base Station

The micro base station is ideal for operators needing a cost effective, scalable WiMAX-ready base station solution for maximum return from their network deployment, especially targeted for low-density or rural areas.It is comprised of a stand-alone module (1U high 19") that connects to the same outdoor radio unit as the macro base station radio.With this common connection, operators have the ability to mix and match base station types according to deployment needs while enjoying the same feature set, provisioning and management functionality in both base stations.
Customer Premises Equipment: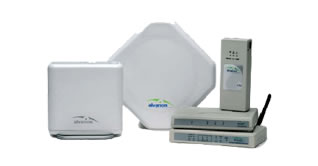 The BreezeMAX platform comes with several CPE types to provide operators with the ultimate flexibility to serve a diverse range of business and residential customers cost effectively.
There are two primary types of CPE units, a self-install indoor CPE, and for longer range, an outdoor CPE. Both CPE types support the same rich set of features based on our vast experience in development and deployment of broadband wireless networks that boast over 2 million deployed units, including:
Integrated Intel® PRO / Wireless 5116 broadband interface
Self-install and outdoor for extended coverage
Integrated smart card
Dual mode FDD/TDD software defined radio
Data, voice, WiFi and E1 / T1 interfaces
Full indoor NLOS deployment
For urban, suburban and rural deployment scenarios
Multiple antenna options
Support for fixed and nomadic applications
Dynamic resource allocation protocol (DRAP) for quality voice services
10 Mbps net throughput per CPE
SNMP management
BreezeMAX Broadband Data IDU

The BreezeMAX broadband data IDU is the basic CPE providing wireless connectivity. It connects the subscriber's PC or network via a standard Ethernet 10/100 Base-T (RJ 45) interface.

BreezeMAX Networking Gateway IDU

The BreezeMAX networking gateway IDU is the optimal networking solution for both home and small business users. It features an advanced integrated broadband router with comprehensive Ipsharing and security capabilities. The networking gateway IDU has four 10/100 Base-T ports and a wireless access point. This networking solution is so powerful that it can enable comprehensive high-speed connection sharing for multiple users, while providing the freedom of high-speed, wireless broadband connectivity to home and SOHO networks with integrated 802.11b/g Wireless LAN functionality. With features such as static & dynamic routing, NAT functionality, built-in firewall and an indoor WiFi coverage, the networking gateway presents operators with a compelling high quality, home networking solution.

BreezeMAX PRO CPE

The BreezeMAX PRO CPE is comprised of an outdoor radio unit (ODU) and an indoor network interface unit (IDU). The CPE ODU contains the modem, radio and integral or external, high-gain flat antenna. The BreezeMAX CPE IDU is available in multiple network configurations to optimally serve the broad array of market segments and applications. Each version of IDU connects directly to the ODU via a category 5 Ethernet cable that carries the data traffic, power and control signals between the IDU and ODU.

BreezeMAX Si CPE (Self-installable, indoor subscriber unit)

The BreezeMAX Si is a compact, portable, single box device that is deployed indoors, typically near the end user's PC. It is designed for plug and play operation, enabled by using a user-friendly application provided on a CD with the unit. The BreezeMAX self-install CPE supports intelligent antenna steering functionality using six antenna elements with 9dBi gain. Services and interfaces supported include 10/100 Base-T for IP data, 802.11b/g for WiFi hotspots, 1 or 2 POTS (RJ11) ports for voice services and battery back up. It is available in a dual FDD/TDD mode and is suitable for urban, suburban and rural deployments.

Broadband Voice Gateway CPE IDU

The broadband voice gateway IDU provides integrated voice and data services for residential and SOHO users and is available in two models: One 10/100 Base-T data port and ONE RJ-11 voice POTS port One 10/100 Base-T data port and TWO RJ-11 voice POTS port Featuring advanced voice and data functions such as VLAN tagging, traffic prioritization by IP DiffServ, H.323 and SIP protocols support, Class 5 voice services (3-Party conference, call waiting, call hold), integrated management and more, the broadband voice gateway IDU presents an ideal solution for operators seeking to serve the combined services of broadband voice and data.
Download the BreezeMAX data sheet - PDF Version