With the greatest demand for broadband services coming from within the core metro markets, AirPair presents an ideal complementary networking solution to rapidly extend high speed IP services from locations that are already attached to the service provider's network. The suite of service includes:
Native Ethernet
Network hardening
Disaster recovery
Legacy TDM Services
AirPair is well-suited for these services, as it is a carrier grade, high capacity, native Ethernet system. Support for Ring/Mesh configurations enables 99.999% availability, for carrier-grade SLAs. With ultra-low latency, voice and video over IP are both supported. Additionally, the AirPair product supports T1/E1 services for legacy traffic types.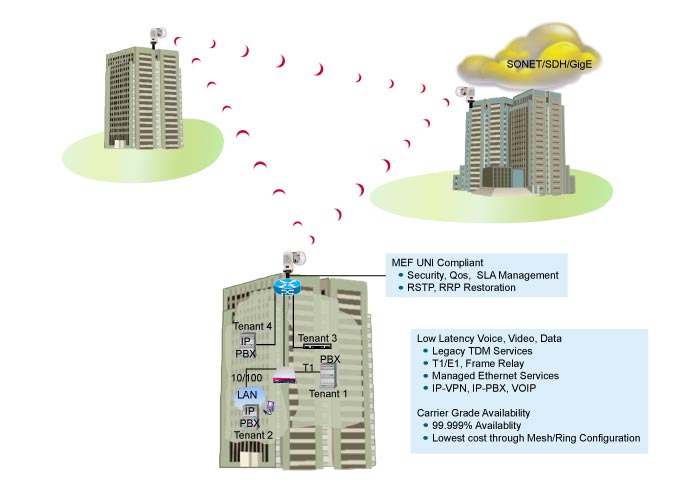 The AirPair Flex enables low cost entry into new markets, without compromising scalability. As bandwidth scales, the AirPair can be remotely upgraded via software, allowing Capex to scale with revenue.
Typical Customers:
IXC's
CLEC's
Utilities
Independent Telco's
Solution Features






Remote, Simple Scalability from 10 Mbps to 200 Mbps using AirPair Flex
99.999% Availability through AirPair Mesh
Legacy TDM support with T1/E1 interface options
Native Ethernet support up to GigE
Ultra-Low latency (<.5 ms) supporting voice and video over IP
All Outdoor deployment option
Feature Rich Network management Suite including SNMP, Web interface, and CLI

Solution Benefits






Native Ethernet and TDM Support
99.999% Availability
Simple Scalability
Gigabit Ethernet Interface
200 mbps capacity