Tel-Link ™1 x T1 to 16 x T1, DS-3 (15-38 GHz) Technical Specifications
Airlinx's Tel-Link Radio System, operating at frequencies from 15 GHz to 38 GHz, provides a cost-effective and immediate solution to voice and data transmission requirements in capacities from 1T1 to 16T1 and DS3. The Tel-Link Radio System is available in both protected and non-protected configurations.

Consisting of an Outdoor Unit (ODU), an Indoor Unit (IDU), and a single coaxial cable for the ODU-IDU interconnection, the Tel-Link system is ideally suited for networks operated by personal communications and cellular service providers, utilities, public telephone network operators, local governments and private users.

Technical Specifications - PDF Version (37 KB)


One Rack Space High IDU
The new one rack space high IDU provides enhanced features in less space while retaining compatibility with previous models. The IDU is common to all Tel-Link frequency bands. It contains all the baseband electronics including line interfaces, digital multiplexing, modulation and frequency generation, alarms and diagnostics, service channel and network management interfaces.
The 16-button key-pad with backlit LCD provides easy access to major parameters such as transmit power, Received Signal Level (RSL), and operating frequency, via a single key.
Implementation flexibility is provided through the use of a wide-input power supply (±20-60 VDC). The IDU requires no fans for cooling, further simplifying implementation and improving reliability.
At applicable frequencies, the IDU offers switchable modulation between 2-FSK and 4-FSK, providing the user with the flexibility of backwards compatibility with existing equipment.
Advanced Software
Downloadable software allows firmware enhancements to be made without the need for hardware changes. Enhanced software commands provide the capability to display transmit frequency in MHz, fade margin in dB, and output power and RSL in dBm.
A user configurable RSL alarm allows notification of a decrease in RSL to a predetermined point, e.g., approaching threshold. Software commands allow users to automatically calculate link fade margins.
Ease of Installation
Tel-Link radios offer the industry's simplest and easiest installation. No tuning is required at installation. Only the azimuth and elevation need to be set and these adjustments are performed with a simple voltmeter.
Network Management
The Network Management System (NMS) architecture allows for connection to the Airlinx NMS or can be easily adjusted to the user's existing NMS platform. Additionally, the system can be configured with dial-out capability, allowing it to dial out over a standard telephone line and send a message containing site ID and alarm information to a user's network operations center. Sophisticated built-in diagnostics deliver a low cost of ownership.
The Airlinx Advantage
The reduced size, improved capabilities and features, and the advanced technology of Airlinx's Tel-Link radios, provide the optimum solution for voice and data transmission requirements.
Superior technology, market leadership and global presence make Airlinx the choice of network operators worldwide. Where time-to-market, cost-effectiveness and system performance are the decision criteria, the only choice is Airlinx.
PCS and Cellular Applications
PCS and cellular service providers use Tel-Link radios for a variety of interconnection applications, such as:
Base Transceiver Station (BTS) to Base Station Controller (BSC) connection.
BSC to Mobile Switching Center (MSC) connection.
Microcell in-filling.
In these applications, Tel-Link radios provide highly reliable connections at distances from 1 to 25 miles. They deliver capacities of 1T1 to 16T1 and DS3 in both non-protected and protected configurations. Their ease of installation assures timely implementation of the link and, therefore, service to the paying subscriber.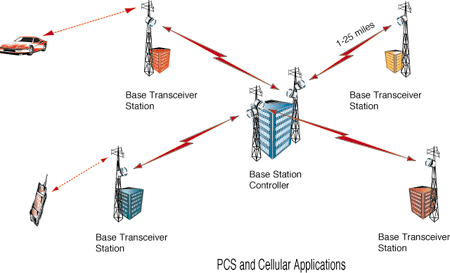 Private Network Applications
Tel-Link Series Radios offer the ideal alternative to leased facilities for corporations, utilities, government agencies and educational institutions. Being simple to install, they deliver fast service implementation. Their low cost compares favorably with the cost of traditional leased circuits and break-even is achieved in a short period of time. Tel-Link Series Radios are in service in a number of critical applications such as:
Private voice and data networking.
Utility management and control.
Railway signaling and service traffic distribution.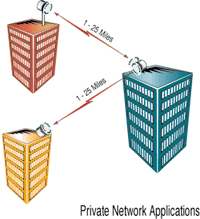 Local Access Applications
Tel-Link Series Radios offer cost-effective solutions for many local access applications. Tel-Link radios are being used to bypass local exchange carriers, allowing end-users to deliver voice and data traffic directly to alternative service providers. Local exchange carriers and alternative service providers use Tel-Link radios to provide interconnection for customers in locations where traditional wire facilities are inadequate or non-existent.