Features
Simple configuration reduces technician time and lowers installation costs
Spectrum Efficient 4 FSK Modulation
Compact and Lightweight
Display of Frequency in MHz, Transmit Power & Receive Signal Level in dBm
Convection Cooling for High Reliability
Local and Remote Loopback
Mid-Air Interface with Tel-Link
Options
Embedded SNMP Agent
Network Management System
General Description
The Airlinx Tel-Link Encore Radio System provides a cost-effective solution to voice and data transmission requirements in capacities from 2E1 to 16E1. Operating at 38 GHz, the Tel-Link Encore features a new compact IDU and ODU with enhanced features that include line interface, digital multiplexing, alarms and diagnostics, service channel and network management interfaces.
Tel-Link Encore features user accessibility functions including Transmit Power, Receive Signal Level (RSL), and operating frequency. Additionally, the Tel-Link Encore features enhanced software allowing downloadable field upgrades and an optional embedded SNMP agent for advanced network management capabilities.
The advanced system features and enhanced capabilities of the Tel-Link Encore make it the ideal solution for networks operated by mobile service providers, Internet Service Providers (ISP), utilities, public telephone operators, local governments and corporate users.
Point-to-Point Application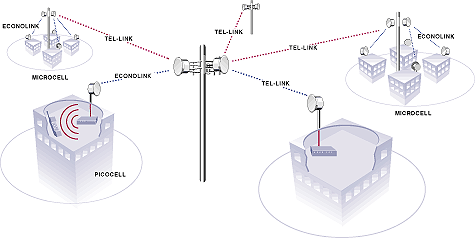 Technical Specifications
Operating Frequency
37 - 39.5 GHz
Capacities and RF Channel Spacing
2 x E1
3.5 MHz
4 x E1
7.0 MHz
8 x E1
14.0 MHz
16 x E1
28.0 MHz
Compatible Standards

Transmit/Receive Spacing
1260 MHz (CEPT T/R 12-10)
Modulation Type
FSK
Tuning Range
560 MHz
Frequency Source
Synthesizer
System Configurations
Non-protected (1 + 0)
Protected (1 + 1)
RF Channel Selection
IDU controlled or via NMS
Digital Interface
Type
E1 per ITU-T G.703
Digital Line Code
HDB3
Digital I/O Connectors
120 balanced DB-25
75 unbalanced BNC
Transmitter
Power Output
Standard
+17 dBm (50)
Frequency Stability
±10 ppm vs. temp
Attenuation Range
25 dB
Receiver
Receiver Type
Dual conversion
Unfaded BER
10-11 or better
Receiver Overload
-15 dBm
(1 x 10-6 BER)
Receiver Sensitivity (1 x 10-6 BER)
2 x E1
-80 dBm
4 x E1
-77 dBm
8 x E1
-74 dBm
16 x E1
-71 dBm
Power Supply
Standard Input
±20 to ±60 VDC
Power Consumption
2 x E1 - 4 x E1 Radios
45 Watts
8 x E1 - 16 x E1 Radios
55 Watts
Diagnostics
Loopbacks
Indoor unit, outdoor unit,
local lines, remote lines
Relay Outputs
Five form "C" relays
(user definable)
Mechanical
Dimensions
Indoor Unit
44.5 mm H x 440 mm W x 235 mm D
Outdoor Unit
250 mm dia. x 187 mm D
Weight
Indoor Unit
3.4 kg
Outdoor Unit
6.3 kg
Environmental
Temperature Range
Indoor Unit
-10°C to +50°C
Outdoor Unit
-33°C to +55°C
Relative Humidity
Indoor Unit
95% at +55°C
Outdoor Unit
100% all weather operation
Altitude
4,500 meters
Service Channels (optional)
Number of Channels
Three
Engineering Orderwire
Frequency Response
300-3400 Hz
Impedance
600 balanced
User Interface
RJ-11
Digital Data Channel
Bit Rate
0 - 9600 bps
Protocol
RS-232C, RS-422/423
User Interface
RJ-45
NMS Data Channel
Bit Rate
Customized
Protocols
Customized
User Interface
RJ-45
IDU to ODU Interconnect
| | |
| --- | --- |
| Number of Cables | One |
| Type | RG-8 |
| Impedance | 50 unbalanced |
| Recommended Cable | Belden 9913 |
| Maximum Distance | 300 meters |
| Connector Type | "N" Male |
Antennas
Diameter
30 cm
60 cm
Gain
37 dBi
43 dBi
Beamwidth
1.6°
0.8°
Polarization
Vertical or horizontal
Radiation Pattern
ETS 300 197
Standard Mounting Windspeed
Operational
70 mph (112 Kmph)
Survival
125 mph (201 Kmph)
IDU -Indoor Unit
ODU -Outdoor Unit
NMS -Network Management System
Unless otherwise noted, specifications reflect typical performance of a non-protected terminal connected back-to-back, and are subject to change without notice.