Canobeam's Auto Tracking Feature
Among the most notable advances featured in the DT-100 Series is Auto Tracking, which is now built-in to the complete line from the high end DT-130 to the more economical DT-110. This feature maintains transmission during normal building sway and movement, automatically compensating for shifting of buildings and platforms due to vibration, wind, temperature changes and other environmental conditions. Incorporating technology from deep experience developing precision optical systems for broadcast lenses, Auto Tracking is the most advanced available today.
The narrow beam (2m at 2km, 1m at 1km) achieved with the Auto Tracking feature is much more power efficient (25X more) in comparison with a FSO unit without Auto Tracking, which will spread the beam at about 5m at 1km. The narrow beam is also the reason why Canobeam only needs to visibly see half of the linking distance to maintain communication.

With Built-In Auto Tracking...
The optical beam axis will continually correct maintaining proper transmission throughout. When the unit moves the beam axis does not. No deviation of the beam assures stable transmission.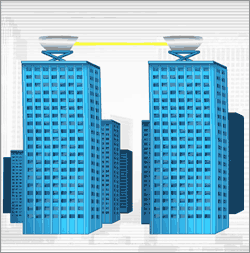 Without Built-In Canobeam Auto Tracking...
The optical beam axis will deviate with normal building or mount movements affecting transmission. Causes can include temperature fluctuation, wind, vibration, normal building sway.