Infrared LED and Laser Product Overview -The Next Generation of Wireless IR Links

Connecting high-speed LAN systems while maintaining full network speeds can be accomplished by using high-performance infrared (IR) optical LED/laser technology. Flight Transport systems offer a complete series of next generation wireless line-of-sight IR communication solutions. The Flight Transport systems result from 30 aggregate years of research and development in the field of IR communications. Using the right combination of LED/VCSEL/LASER transmit/receive boards, IR systems can be tailored for your specific speed and distance requirements.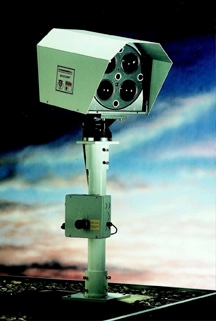 Flight Transport
Whether you are an enterprise or service provider, whether you need 10 Mbps or 2.5 Gbps, whether your application is SONET, Fibre Channel, IP or ATM, whether you want to transmit video, voice or data, whether you want to deploy ring, mesh or point to point, whether you have roof rights or you prefer windows, an FSO approach can address your optical connectivity needs with the FlightTransport product line.
Products
Deployed in more than 30 countries, the Flight FSO products provide the broadest options for Carrier and Enterprise network connectivity up to 2.5 gigabits per second. We provide an array of products to address your price points and desired performance requirements.
FSO solutions combine three essential elements that meet the needs of both Enterprise and Carrier customers.
Flight FSO products deliver optical connectivity faster and more cost-effective than fiber-optic cable or microwave radio. We offer three transport choices – FlightLite, FlightSpectrum, and FlightStrata – all with features and performance to meet a variety of customer needs.
Bandwidth from 1.5 Mbps to 2.5 Gbps
Distances up to 4000 meters
Indoor and outdoor mounting options
Protocol transparent – SONET, IP, Ethernet, GigE, ATM, FDDI and more
The outdoor wireless solutions have earned high marks in Enterprise networking installations for linking two or more buildings in classic LAN-to-LAN backbone connectivity with extraordinarily high-bandwidth of up to 1.25 Gbps. InfoWorld recently rated the Optical Wireless products above competing unlicensed radio frequency competitors, thanks to the products' full line speed capability and operational range.

Mobile carriers can accelerate momentum for 3G and 4G networks by deploying the outdoor wireless solutions for mobile wireless backhaul connectivity in place of low-bandwidth leased lines or licensed and unlicensed RF.
Flight Transport Series Features
- Data rates from 10 Mbps, 52 Mbps, 155 Mbps, 622 Mbps, 1.25 Gbps and 2.5 Gbps, all full-duplex
- Distances up to 2.5 miles depending on the model
- NO FCC regulation
- High signal security
- Protocol transparency (ETHERNET, ATM, TOKEN RING, FDDI...)
- Easy to integrate into existing networks
- Simple installation with built-in telescope, acoustic alignment and signal strength meter -Micro alignment for precise adjustment
- Built-in heater and lens defroster
- RS-232 Optical Management Interface (OMI) for remote diagnostics
- SNMP support
Benefits of Flight Transport Series Networking Products
- Fast, reliable and easy to install wireless datalink between geographically separated locations
- Perfect solution to aviod right-of-way conflicts and construction delays when placing a wired connection
- Protocol transparency and operation at full network speeds
- Up to 100 fold increase in bandwidth compared with standard leased (T1) connections
- No recurring monthly leasing costs -No FCC permit required, which means no costly setup fee and waiting period to obtain a permit
- Ideal for rapidly deployable temporary applications, emergency setups or high speed network backups
- Higher speeds and increased signal security over competing wireless network solutions
- Built-in network isolation from lightning strikes due to fiber optic cabling
FSO IR Laser