AIRLINX Communications Network and Consulting Services
Company
AIRLINX Communications is a manufacturer, value-added reseller and worldwide installation service provider for a wide array of spread spectrum, microwave, broadband radio and telecommunications products. This truly unique mix of competencies allows AIRLINX to flexibly meet its customer demands as a single source solutions provider. To complement its own staff, AIRLINX maintains a worldwide network of closely affiliated partners who have an intimate knowledge of local markets and regulatory issues.
As an independent reseller, AIRLINX Communications maintains a vendor neutral position with respect to its equipment proposals. AIRLINX has excellent insight regarding the capabilities of the third party telecommunications equipment is sells because of firsthand practical operating experience in the field. A myriad of multi-vendor, multipurpose applications requires seamless integration by an independent source. Carrier-class solutions demand such reliability, QoS (quality of service) and functionality.
Engineering Design and Business Services
Wireless networks require optimization with the physical legacy network. The demarcation point is not the radio. AIRLINX performs all aspects of the wired and wireless system build-out. AIRLINX offers carrier-class switching equipment for carrier central office switched backbones. CLECs and ISPs will benefit from our business plan and market study consulting services. Proper planning ensures that the rollout is done right the first time. AIRLINX will carefully weigh the benefits of using licensed versus unlicensed radio for every application with a complete understanding of the customer's expectations of system performance and cost.
Construction and Project Management Services
Wireless network design services and RF equipment commissioning are a small part of designing telecommunications networks. Towers and building rooftop sites must be procured for antenna placement, repeater sites and power. A provider with construction partners is essential. AIRLINX maintains relationships with construction firms with nationwide construction capabilities. Project build-outs are completed on time and within budget.
List of Services
System and Program Planning and Management
Engineering Design
Application Engineering
Frequency Band Planning
Fiber Network Planning and Installation
Central Office Equipment Installation
Path Survey, Design and Engineering
Network Engineering, Operations and Maintenance
International Tower, Civil and Electrical Issues
International Frequency Coordination and Regulatory Filings
Line of Sight Verification
Local Permitting
Site Inspection and Audit
Vendor and Contractor Bidding (RFP/RFQ Generation), Selection, Management and Payment
Site Development and Construction
Installation, Testing and Acceptance
Structured Cable Installation
Staging and Warehousing
Training
Documentation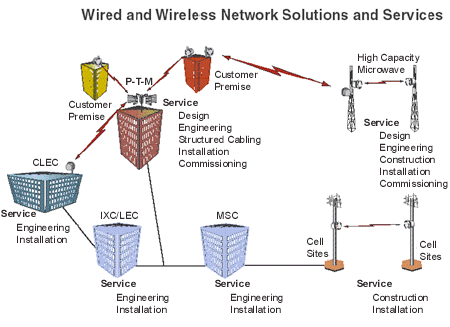 Partial List of Equipment
Wireless Systems
Microwave and Millimeter Wave Radios (Point-to-Point and Multipoint/WLL)
Dish, Panel and Other Antennas
Coaxial Cable and Waveguide
Cable Hanger/Fastening Hardware
Connectors and Jumper Cables
LNA and Power Amplifiers
RF Test Equipment
Pressurization and Dehydration Equipment

Infrastructure/Site Hardware
Towers
Shelters
Cabinets and Racks
Cable Trays and Antenna Mounting Hardware
Distribution Panels and Cross Connects
Terminal Blocks

Power Systems
Batteries and Battery Backup (UPS and Other)
Charging Systems
Power Converters
Power Inverters
Power Rectifiers
Generators
Lightning Protection
Power Distribution
Line Conditioners

LAN/WAN/Edge Access Hardware
CSUs/DSUs and Digital Loop Carrier Systems
Modems, Line Drivers and Other CPE
Multiplexers, Channel Banks and T1/E1 Converters
Digital Cross Connect Systems (DACS)
DSX Panels/Modules
Routers and Switches

High-Capacity Core/Backbone and Central Office (CO) Switching Equipment
ATM Switches
SONET Switches
Gigabit Switches
Backbone Routers
DSLAM and xDSL
Frame Relay
Pre-sales
On a limited basis, AIRLINX offers equipment recommendations and performs remote online path analyses using customer supplied data without charge for those who wish to purchase wireless equipment and install it themselves. Self-installation is only suggested for experienced RF personnel. AIRLINX takes no responsibility for the wireless network designs and installations of others.
AIRLINX's consulting group offers RF path design and legacy network integration services. AIRLINX supports existing microwave installations requiring upgrades or maintenance, as well as the design and installation of new point-to-point microwave radio or WLL systems. CLECs and ISPs realize the need to offer competitive wireless local loop (WLL) services and AIRLINX can assist them in rolling out next generation (3G) broadband wireless services. Whether it is a low/medium/high-capacity backhaul link, or a multipoint distribution service, AIRLINX covers the frequency spectrum domestically and internationally. Prompt service, total solutions and clear proposals from knowledgeable technical sales and engineering staff.
AIRLINX can remove older microwave and telecom equipment altogether, if needed. AIRLINX will suggest either an upgrade or a replacement of an existing wireless systems after a basic inspection.
An Overview of Our Microwave Path Engineering and Wireless Network Design Services
AIRLINX follows a systematic design process in managing technical projects. The process may vary slightly depending on the nature of the project.
Site Selection and Acquisition
Determine the network nodes to connect and find possible structures or towers for antenna locations. Site acquisition is possible through collocation partners/tower owners-managers around the country. An inter-modulation analysis will be performed if collocated antenna systems are present.
Site and Path Survey to Determine Feasibility and Attainment of Performance Objectives (Path Design/RF Engineering)
Field verification of the sites and the path terrain to determine if adequate Fresnel Zone clearance or radio line of sight is attainable. An optimum centerline is chosen. The path is profiled using software with the verified site coordinate data from GPS readings and USGS topological maps. The datum is referenced. Path and propagation analysis is performed to determine the system reliability and availability based on the line of sight path(s) and respective distances using a number of reliability and availability (rainfall) models. Reflection point and anti-correlation analysis is performed to avoid selective reflective fading. In addition, a radio frequency spectrum analysis may be performed if the radio system is to be unlicensed. Upon request AIRLINX will bring a microwave spectrum analyzer into the field.
Equipment and Frequency Band Selection
Based on the system's capacity requirements, budget, path length and other factors, an equipment vendor and an appropriate frequency band will be selected. A project cost will be ascertained at this point.
Frequency Coordination
An interference and inter-modulation analysis will be performed. An available frequency pair will be selected and relevant license holders of nearby transmitters will be notified (PCN) to meet FCC requirements (or other regulatory body requirements abroad) in order to operate without causing interference.
Licensing
File the appropriate license forms and submit the appropriate fees. AIRLINX performs document translation services in international markets.
Interference Protection
Protect your licensed microwave radio system from future interference. If an unlicensed system is chosen under FCC's Part 15 rules (or equivalent in international markets), fewer alternatives for legal recourse are available if interference becomes an issue.
Equipment Procurement and Delivery
AIRLINX is a total solutions provider of all microwave, millimeter wave radio equipment and telecommunications hardware.
Construction, Site Design, Installation and Overall Project Management
Erect towers, shelters and backup power systems, if needed. Civil engineering design and stamped documentation provided. Note that local zoning and FAA regulations may require extensive preparation time before the RF equipment installation and system turnup. Install, test, optimize, commission and document the wireless system. Perform legacy network integration. AIRLINX can manage any type of installation service, including user training.
Warranty, Extended Service Contract (ESC), Maintenance and Repair
All new equipment is under the respective warranties of the manufacturers. Extended warranties are available. Custom 24/7 maintenance service agreements are available to organizations with mission critical applications. Repairs may be done in the field, or elsewhere depending on the nature of the problem, while a rapid replacement is sent via overnight courier. Periodic inspection and maintenance of towers, grounding systems and transmission lines for faults to ensure their integrity.
Emergency Services
AIRLINX Communications offers worldwide installation and delivery services of turnkey sky pack/fly away wireless systems in war and peace. Anytime, anywhere, when disaster strikes! AIRLINX's expertise in shipping quickly and cost-effectively is tantamount to its success. Unlicensed radio systems are available for emergency rental on a limited basis.
Customers Who Benefit
CLECs, wireless ISPs (WISPs), local exchange carriers (LECs), long-distance and inter-exchange carriers (IXCs), cellular, GSM and PCS operators, utilities, transportation and public safety organizations, hospitals, government entities and military branches as well as private enterprise, whether private microwave for public or private corporations.
Leasing, Export Financing and Equipment Repurchases
AIRLINX can arrange equipment financing to qualified organizations. On a limited basis, AIRLINX may purchase older microwave radio and telecom systems.
Special Design Services
RF design, prototyping, device approval and testing services also available.