Download the M900S 900 MHz NLOS data sheet - PDF Version

What's Included
AP or SU radio

Standard Power Supply

Power-over-Ethernet (PoE) Junction box

Mounting bracket for wall/pole
** EXT model includes only a connector for an external antenna and does not include an integrated antenna
Highlights
The M900S Series was designed for deployment in areas where foliage and other obstructions obscure line-of-sight between the access point (AP) and subscriber unit (SU). The system offers excellent receiver sensitivity and best-in-class overall system gain for outstanding non-line-of-sight (NLOS) range. The subscriber can expect typical NLOS performance of up to 6 miles or beyond*. Use of external antennas increases range and fade margin even farther. In addition, Spread Spectrum modulation promotes resistance to multipath fading. Combining SMARTPolling™ with Spread Spectrum modulation results in maximum cell performance.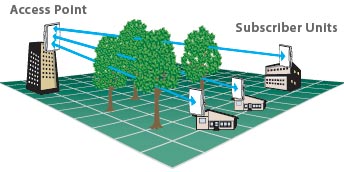 Antenna Flexibility
The M900S AP and SU each include an integrated 10 dBi dual polarized patch antenna as well as a connector for optional external antennas. The lower cost M915S-SU-EXT features only a connector for an external antenna. External antenna options include omni antennas for the AP and yagi-style antennas for both the AP and SU. The auto-sensing feature on the M900S SU allows the firmware to choose the antenna with the strongest signal, or the user can manually select either the internal or external antenna.
Speed
The system delivers up to 3 Mbps and utilizes patent pending SMARTPolling™ algorithm to dynamically and adaptively poll subscriber units, ensuring the lowest latency for active subscribers.
Channel Flexibility
The system is configured with four channels, each 6 MHz apart. The user can redefine channels by selecting frequencies in single MHz increments. The SU scans all channels until it associates with a properly configured AP. This allows redundancy of APs as well as a simple and quick method to switch channels on an entire sector.
Interference Mitigation
The M900S Series offers powerful resistance to interference with the Automatic Repeat Request (ARQ) feature which automatically retransmits packets to mask RF errors to higher layer protocols. In addition, the system includes interference mitigation tools such as software selectable dual polarity antennas, automatic SU power leveling, and threshold control.
Integrated Design
The M900S radios are fully weatherized outdoor units featuring Power-over-Ethernet (PoE) designed for quick deployment and easy installation.
Management Features
The system offers remote and local management via Telnet, SNMP and HTTP via browser. Powerful tools such as site survey and upstream/downstream CIR/MIR controls allow operators total control and flexibility in managing their network.
Specifications
Frequency of Operation
902 MHz to 928 MHz
User Data Throughput
3 Mbps
Receiver Sensitivity
(BER 10-6)
-90 dBm typical
RF Power Output
M900S AP & SU: +26 dBm Max Setting, -4 dBm Min Setting
M915S-SU-EXT: +26 dBm Max Setting, 0 dBm Min Setting
LED Indicators
7 LEDs including 4 RSSI
Modulation Format
Direct Sequence Spread Spectrum (DSSS) with RAKE
Access Method
TDD with SMARTPolling™
Maximum SUs per AP
126
Configuration/Management
Telnet, SNMP (via AP), TFTP, HTTP
Internal Antenna
M900S AP & SU: Integrated 10 dBi 60° X 60° patch dual polarized (HPOL/VPOL)
Internal Antenna Polarization
Horizontal / Vertical (Software Switchable)
External Antenna Connection
Reverse Polarity SMA (RP-SMA)
Omni Antenna** (Optional)
8.5 dBi 360° X 10° (VPOL) - Comtelco Part # BS915XL7** (Requires N-SMA RP adapter)
Yagi Antenna** (Optional)
8 dBi 70 ° X 90 ° (VPOL or HPOL) - Trango part # AD900-8Y-RP** (comes with N-SMA RP adapter)
Yagi Antenna** (Optional)
15 dBi 30° X 30° (VPOL or HPOL) - Cushcraft part # PC9013N** (Requires N-SMA RP adapter)
Physical Interfaces
10/100 Ethernet Autosensing, Serial Port (RJ11)
Power Method
Power-over-Ethernet (PoE Injector JBox included)
Voltage Limits
10.5 VDC – 24 VDC
Enclosure Type
M900S AP & SU: All-weather, powder coated, cast aluminum with polycarbonate radome
M915S-SU-EXT: All-weather ABS
Temp Range
-40° to 60° C (-40° to 140° F)
Radio Dimensions
M900S AP & SU: 12.5" x 8" x 2.75"
M915S-SU-EXT: 15" x 7.4" x 6.1"
Radio Weight
M900S AP & SU: 4 lbs.
M915S-SU-EXT: 1.5 lbs.
* Non-line-of-sight range and throughput may vary due to antenna height, leaf density, moisture content, and other environmental factors.
** NOTE: These external antennas require a Reverse Polarity SMA MALE to Standard N MALE-50 OHM RG142B/U Coax Adapter