Velox LE 50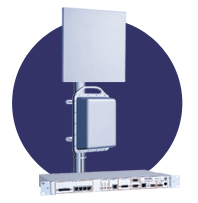 Velox LE™ provides carrier-class wireless transmission in the license-exempt 2.4 and 5.8 GHz frequency bands. Velox LE is available with total throughputs of 10, 25 or 50 Mbps full-duplex, selectable via software key. The available throughput can be programmed between TDM E1/T1 traffic and/or Ethernet data.

Velox LE provides an in-built spectrum analyzer and user programmable frequency selection to optimize performance. The product architecture options include a split-mount configuration to minimize path losses and antenna sizes, or an all-indoor, rack-mounted configuration to enable simplified installation and maintenance.

SNMP-based configuration and system monitoring are available via the Network Configuration Tool or ProVision™ Management System.
The Velox LE 50 offers full duplex, point-to-point DS1/E1 and 100 Base-T Ethernet wireless connectivity in either of the 2.4 GHZ or 5.8 GHz license exempt frequency bands.

Software-driven scalability allows the user to configure throughput capacity for up to 90 Mbps aggregate. In IP mode, all of the available throughput can be assigned to the 100 Base-T Ethernet transport. In mixed mode, using an optional plug-in interface module, up to 16DS1/E1 can be provided plus Ethernet, up to the total available aggregate.
Download the Velox LE 50 data sheet - PDF Version