ORiNOCO AP-4000 Tri-Mode Access Point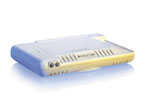 Delivers Scalability for Evolving Wireless LAN Networks
The ORiNOCO AP-4000 Access Point is Airlinx's highest performance wireless LAN solution. The AP-4000 is memory-rich and pre-configured with tri-mode for automatic support of all client types – perfect for evolving enterprise wireless networks.
Automatic, universal Wi-Fi client interoperability
40 Mbps throughput with 802.11g and 802.11a simultaneous operation
Built-in rogue AP detection for both 802.11b/g and 802.11a access points
AP-to-AP communication for reaching areas without Ethernet wiring
Unique 802.11a scalability - external antenna connector for increased transmit distance
Twice the memory of competing APs, ensuring software upgrade capacity
Secure, Multi-use Wi-Fi Network

The ORiNOCO AP-4000 includes support for multiple simultaneous security settings in addition to existing standards-based security.
Multiple security settings per AP with use of VLANs, with up to 16 VLANs per radio
Security settings for multiple groups – so employees, guests and contractors now easily, securely share the same infrastructure
Proactive Security Measures to Protect Your Network

ORiNOCO access points support the latest security standards, such as Wi-Fi Protected Access (WPA), and add proactive security measures.

Certified WPA for IEEE 802.1X mutual authentication
Dynamic per-user, per-session rotating keys
Rogue access point detection, notification
Fully software upgradeable to AES and 802.11i
Intra-cell blocking to prevent client-to-client snooping
Easy to Deploy and Manage

Ease of deployment and integration with the wired network are critical factors in a successful, profitable wireless LAN rollout. ORiNOCO access points excel with key capabilities that simplify WLAN deployment.

Tools to speed installation and optimization: automatic channel selection, adjustable transmit power, external antenna connectors
Wireless repeating functionality for areas without Ethernet wiring
Remote, secure management via SNMPv3 and HTTPS (SSL)
Extensive RADIUS accounting support
Powerful group configuration, software updates and automatic alerts via Wavelink Mobile Manager
Reliable by Design

With over 10 years of experience in the design and manufacture of wireless LANs, we understand that service providers and enterprises require the same uptime and reliability in a wireless network as in a wired network. ORiNOCO access points offer:

Robust features for enterprise, public access – compared to consumer grade APs
Automatic reconfiguration of network parameters and security policy in the event of power loss
Assured software upgrade – for rollback in the event of software or configuration change problems
IEEE 802.3af Power-over-Ethernet, plenum rating, integrated antennas and external antenna connectors
Applications
Enterprise Mobile user productivity
Healthcare Real-time patient charting
Education Mobile faculty and student connectivity
Government Remote access to constituency information
Public Hot Spots Wi-Fi connectivity
Download the ORiNOCO AP-4000 Technical Specs data sheet - PDF Version