Tsunami MP.11 Model 5054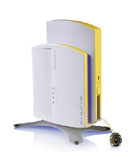 The Tsunami MP.11 family offers robust and affordable wireless point-to-multipoint connectivity ideal for metropolitan area networks, campus networking and last mile access. Model 5054 (MP.11a) operates in the 5 GHz spectrum. Tsunami MP.11 products enable the instant creation of wireless WANs for enterprises, service providers and schools.
Superior Performance for a Broad Range of Enterprise and Service Provider Applications

The Tsunami MP.11 family offers the industry's highest performance and scalability for a variety of wireless WAN applications including last mile access, security and surveillance and metropolitan networks.
Advanced Wireless Outdoor Routing Protocol (WORP) polling technique delivers up to 24 Mbps of usable throughput
System dynamically adapts to the number of subscribers in the network for highest efficiency
OFDM technology, enhances non-line of sight performance1 improving deployment in challenging areas
Mobile Roaming Enables New Applications

Our innovation delivers another wireless industry first - mobile roaming of Subscriber Units (SU) between Base Station Units (BSU). Public safety first responder networks, transportation system monitoring and telemetry and mobile security and surveillance are now all possible with a low cost, robust system.
Fast handoff at speeds up to 200 km per hour (120 miles per hour)
Customizable roaming parameter maintains minimum bandwidth required for application performance
Designed for Business and Residential Last Mile Deployment

Service providers enjoy advanced features with the Tsunami MP.11 family, enabling faster and easier revenue generation. The Tsunami MP.11 family is designed with service providers in mind.
Deliver multiple service plans simply with RADIUS based bandwidth management
Asymmetric bandwidth management allows service providers to upsell uplink bandwidth
Dynamic Data Rate Selection (DDRS)1 maximizes subscriber coverage by allowing each subscriber to receive the maximum data rate possible
Up to 250 subscribers per BSU - 1500 per cell site - minimize CAPEX costs per subscriber
Advanced Security Protects Privacy

Multiple security mechanisms protect operator, residential customer and enterprise privacy.
The Wireless Outdoor Routing Protocol (WORP) prevents snooping common to Wi-Fi systems
Advanced encryption protects over-the-air transmission
Intracell blocking forbids direct communication between Subscriber Units
BSU and SU mutual authentication eliminates unauthorized use of system by rogue SUs and man-in-the middle attacks
Password protection of all remote management methods ensures authorized access
Easy to Deploy and Manage

Ease of deployment and integration with the wired network are critical factors in a successful rollout. Tsunami MP.11 family excels with key capabilities that simplify deployment.
DDRS employs adaptive modulation delivering optimum performance under all link conditions, mitigating service calls
Both business and self-installable residential Subscriber Units are available for a variety of customer types
Deployment tools including antenna alignment and remote management and configuration eliminate the need for truck rolls
Standard type-N connector and wide variety of antennas provide support for up to 6 sectors per cell site
Download the Tsunami MP.11 Tech Specs data sheet - PDF Version

Download the Tsunami MP.11 data sheet - PDF Version

Software Release 2.0 Features
Feature
Description
Most flexible spectrum selection
2.4 GHz
5.25 – 5.35 GHz
5.47 – 5.725 GHz
5.725 – 5.85 GHz (including 5.8 GHz for UK Licensed spectrum)
Non-line of sight capable
Line of sight and non-line of sight connectivity extends deployment flexibility in rural as well as high-density urban areas.
High-sector count per cell (360 deg)
Supports 6 sectors per cell.
Highest throughput per cell (360 deg)
Industry-leading throughput of 144 Mbps with 6 sectors.
Seamless roaming
Fast hand-off at speeds up to 120 mph between overlapping base stations enables mobile broadband services for transportation systems, emergency responders and even high-speed rail.
Guaranteed data rate
Allows bandwidth-intensive applications, such as high-definition video streaming, in mobile environments.
250 subscriber support per cell
Increasing the number of subscribers per cell allows the fastest ROI.
Dynamic data rate selection
Automatically optimizes throughput as link conditions change or as subscribers roam. Connectivity is automatically maintained when link quality degrades.
Built-in NAT service (Network Address Translation)
Enables private IP network deployment and extends IP services such as storage and e-mail at the subscriber site.
Built-in DHCP service
DHCP complements the NAT service by provisioning private IP addresses in the subscriber's network.
Enhanced subscriber unit privacy protection
Privacy protection allows the BSU to act as the central policy enforcer for SU to SU communications and prevents unauthorized neighbor snooping.