Bridging & Backhauling (Wireless LAN) Overview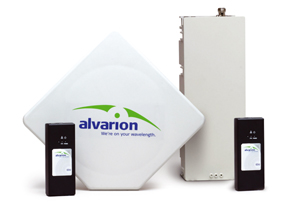 The BreezeNET product family offers Point-To-Point and Point-To-Multipoint bridging and backhauling solutions in a variety of unlicensed frequency bands. BreezeNET solutions are easy to install and maintain, and provide a cost effective, high performance solution for a wide array of market segments.

The BreezeNET line is an inexpensive alternative to costly leased line solutions, in places where the option of deploying additional copper or cable isn't economically or practically viable, for applications such as:
Building-to-building connectivity
Wireless networking solutions for local area networks (LANs)
Internet access
Point-to-Point Bridging & Backhauling with BreezeNET™
Utilizing robust outdoor technology suitable for all climates and environments, BreezeNET's high capacity, broadband performance capabilities impact a wide variety of applications where point-to-point connectivity is a vital necessity:
ISPs can leverage BreezeNET as a reliable and cost-effective wireless link to backhaul their Point-to-Multipoint data to their Internet access network.
Enterprises, campuses, municipalities and other organizations, needing to link their headquarters and branches to each other can utilize BreezeNET's LAN Ethernet bridging capabilities.
Point-to-Multipoint Wireless LAN with BreezeNET™
The BreezeNET Point-To-Multipoint solutions include products with both Frequency Hopping (802.11) and Direct Sequence (802.11b) spread spectrum technologies. Frequency Hopping Spread Spectrum products provide data rates of 3 Mbps and are most suitable for high user density and harsh radio environments. Direct Sequence Spread Spectrum products provide high-speed data rates of 11 Mbps. BreezeNET products provide excellent network coverage. The BreezeNET PRO 11 also supports roaming speeds of up to 100km/h (60mph).

Scalable Security Levels
The BreezeNET family provides a variety of security levels to fit different applications and needs, from a simple 64 WEP key and up to advanced AES solution. In this manner, a highly cost efficient choice of security technology can be attained, enabling the end user to match the cost level of equipment to the precise security levels required for a specific deployment.
Environment-Specific Technology
BreezeNET™ products comprise different technology platforms that are optimized for environment-specific scenarios. Products that employ Frequency Hopping or Direct Sequence Spread Spectrum are suitable for especially noisy environments while others leverage Orthogonal Frequency Division Modulation (OFDM) technology that enhances performance in No-Line-Of-Sight (NLOS) environments. Moreover, BreezeNET uses adaptive modulation techniques that allow transmission of the different throughputs over large distances, depending upon the quality of the signal.
BreezeNET B
BreezeNET B, the newest addition to the BreezeNET family, is a high performance wireless bridge system that provides high-capacity, high-speed point-to-point connectivity, operating in the unlicensed 5GHz band.


BreezeNET DS.11 Outdoor
High performance 11Mbps, wireless connectivity, bridging campuses, buildings and remote sites (Version 4.1 is now available in VLAN support).


BreezeNET PRO.11 Outdoor
Wireless connectivity for bridging campuses, buildings or any remote sites in harsh radio environments.


BreezeNET PRO.11 Indoor
Wireless LAN solutions for enterprise applications, best suited for environments with high user density.