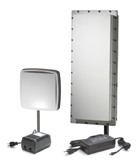 Tsunami Multipoint, the highest capacity point-to-multipoint solution available on the market today, quickly and easily connects networks between buildings within campus environments and enables service providers to offer a robust variety of services to growing numbers of subscribers.
Cutting-Edge Technology Delivers Carrier-Class Performance

The Tsunami Multipoint wireless Ethernet system delivers cutting-edge technology built on over twenty years of wireless innovation at Proxim. Advanced features deliver reliable, cost-effective alternatives to legacy leased lines, while delivering superlative network performance. The combined throughput and reliability make the Tsunami Multipoint systems perfect for high-performance campus networks, and densely populated last mile Internet access. Proxim point-to multipoint innovation includes:
Patented Active Interference Rejection (AIR) technology, which uses a pre-processing filter to nullify interference in the 5.8 GHz band

Proxim's finely honed wireless transmission protocol, which delivers 200% better throughput than competitors, achieved through protocol efficiency gains

Specialized traffic prioritization algorithms and VLAN functionality, enabling latency-sensitive application performance

Unique Ethernet plus power technology, combining power and network connections into a single Cat5 link

Connections engineered with true carrier-class 99.995% reliability
Simplify Operations and Cost-structure

Tsunami Multipoint dramatically simplifies the installation and maintenance of high-performance network links. These results translate into a quick payback period relative to leased lines, and have many direct cost-saving benefits.

Private infrastructure eliminates recurring monthly leases and bypasses telephone tolls

Outdoor weatherized Subscriber Unit allows system maintenance without entering the subscriber's building

Single cable design eliminates installation labor and expense

Antenna connectors facilitate coverage area "shaping" and reduce initial infrastructure costs

Audible tones guide directional positioning, allowing one-person installation

Remote SNMP management proactively detects issues

Unlicensed band operation eliminates regulatory delays and fees/costs
Unrivaled Performance Trounces Competition

Performance, capacity and scalability are critical concerns in designing business networks. Whether it's expanding service footprint or connecting buildings on a new campus, system performance dictates the success of critical applications. Tsunami Multipoint offers:

Industry-leading 60 Mbps and 20 Mbps over-the-air transmission rates

Unrivaled 54 Mbps and 18 Mbps throughput rates

99.99%+ effective interference prevention, yielding superior performance in high-density areas

Base Station Unit support for 1000+ Subscribers Units, scaling to network and subscriber demand

6 miles/10km range, easily linking sites and extending VoIP functionality
Applications

Last mile access

Extending VoIP service to remote sites

Leased line replacement

Fast service deployment into multi-tenant, rural areas

Campus networking
Download the Tsunami Multipoint data sheet - PDF Version