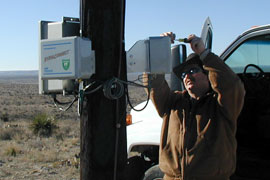 Fixed wirelesss technology can be used to extend high-quality voice, data and video to locations with no telecom infrastructure.
Our Fixed Wireless systems easily extend the telephone network dial tone when traditional copper wireline connection over utility poles (or buried) would be either physically difficult or cost-prohibitive.
Our products provide an advantage in cost, distance, security, quality of service, power consumption and compact size over other wireless or wireline solutions. They are designed to connect directly into public or private networks without third party converters or adaptors. They are used in areas not easily served by landline systems due to economics, reach or terrain considerations.
The applications range from Carrier-Class telephone service to high-speed Internet access, including:
Rural or remote home & business data, fax, internet and telephony
Temporary or emergency phone service
Secure Government and Military
Public safety
Private networks including SCADA
High speed internet connectivity
Private Phone Line Extension
Leased Line
Wireless LAN/WAN Ethernet
Rural Telephony
Wireline retrofit, overlay of exhausted wireline systems
Remote homes, tourist getaways, businesses
Inaccessible or Environmentally sensitive lands
Internet Cafes
Calling centers
Temporary & Emergency restoration
Public Safety lines
Secure Emergency lines
Corporate Tie lines
Oil fields & Offshore Rigs
Supervisory Control and Data Acquisition (SCADA)
Construction sites
Remote mining and industrial sites
Private Networks
Video and security monitoring