RuralConnect Multipoint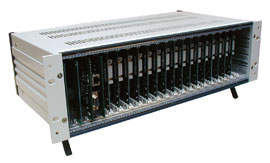 Point to Multipoint multi-access system with capacity for up to 128 voice trunks and up to 1024 subscribers from one single Base Station shelf.
The Base Station shelf is an indoor rackmountable unit (standard 19") integrating a Network Interface Card and up to 16 Radio line cards.
Each Radio line card provides up to 1024 kbps and supports remote CPE Terminals with two, four or eight POTS lines and ethernet data.
The NIC card allows a digital 4 x T1/E1 (GR303/TR08/D4/V5.2) interface with the PSTN network.
The CPE Terminals are equipped with analog RJ11 connectors for the POTS lines and with RJ45 10BaseT Ethernet connector for the data circuit.
This system also integrates a build-in Network Management System allowing local and remote configuration, monitoring, control and maintenance.
Specifications:
Product Description
Digital Microwave Radio
with a Programmable V.35 Synchronous Data Port
Air Interface
Proprietary Time Division Duplexing
with Direct Sequence Spread Spectrum
Overall Data Throughput Rate
512, 256, 128, 64 kbps, selectable from configuration GUI
End-to-End System Latency
Less than 5 ms
System Range:
w/Optional External 24 dBi Antenna
30 miles (48 km) Nom w/ 16 dB Fade Margin
and Interference Free Spectrum
Download the RuralConnect Multipoint data sheet - PDF Version