Accessories & Spares
Antennas & Cabling
Including 10, 18, 24, and 26 dbi external antennas, a range of RF cable lengths, and lightning protectors.
Details >>
Power Supplies
Including AC-DC power converter, bi-directional amplifier, and solar power options.
Details >>
Spare Parts
Including legacy Trailblazer and Trailblazer FT digital cards and line interface cards.
Details >>
---
Power Package Options
Solar Power System:
The model 950-1000 Solar Package includes:
(1) 32 watt, Solar Module, amorphous, lightweight and unbreakable,
(1) 18 AH Sealed Gel Cell Battery,
(1) pole mount for solar module,
(1) 10 AMP voltage regulator,
(1) battery and regulator box for pole mount,
all pre-wired and ready to go.
Contact us for the Solar Installation Manual.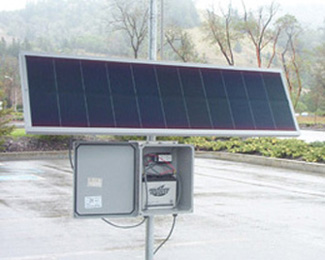 ---
AC to DC Power Converters:
The model 640-3600 Power Supply automatically accepts any international AC voltage from 100 to 260 VAC and converts it to 13.8 volts to operate up to 2 systems. Current capacity is 1.0 A.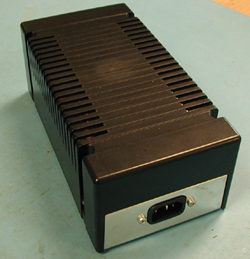 ---

The model 640-3650 Trailblazer 8 hour Back-up UPS is a complete battery back-up system for the Trailblazer product line. Trailblazer Back-up includes a battery and charger for 8 hours of emergency back-up. A terminal block is provided for connection to charger and Trailblazer-PE with our recommended 6 pair armored cable.

The 5 Amp-Hour rating will provide a minimum of 7 hours standby time, plus 1 hour on-air time for Trailblazer-PE. The charger is intended for indoor use only and users outside North America may need to provide power cords.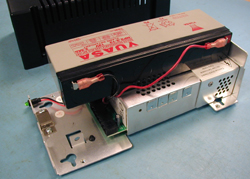 ---
Isolation Kit:
The model 640-6000 Isolation Kit is needed when a positive ground power supply is used. Typically central office power supplies are a negative 48 volts battery feed with the positive side being referenced to ground.
---
Antenna Options & Cabling
For our recommendations on the size of cable needed, please consult the chart below:
| | |
| --- | --- |
| Runs up to 35 feet or 10 meters | LMR 400 coax |
| Runs of 36 feet to 100 feet or 30 meters | 1/2 inch heliax |
| Runs of 101 feet to 200 feet or 65 meters | 5/8 inch heliax |
| Runs of 201 feet to up to 300 feet or 100 meters | 7/8 inch heliax |
Antenna Options:
The model 910-4050 24 dBi Parabolic grid high gain antenna is ideal for longer paths or areas where you may need additional rejection from interference. It comes with a 3 foot high quality "N" Male to "N" male RF cable. Contact us for more information or the High-Gain Antenna Manual.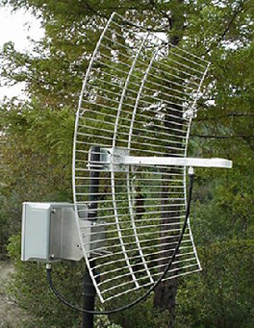 ---
Cabling Options:
The cable we provide is divided into two types: RF (Radio Frequency) and Line Feed. All of our RF cables are a low-loss high-quality type.
The model 910-4100 External antenna cable and connector kit.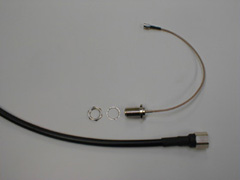 ---
The model 160-3250 6 pair, 22 gauge armored PE 89 buriable cable.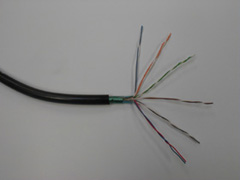 ---
The model 160-3000 4 pair shielded, PVC cat 4 twisted cable.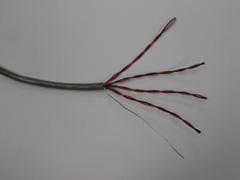 ---
The models 160-2115 Low-loss RF cable extension (15 feet), 160-2125 (25 feet) and 160-2135 (35 feet).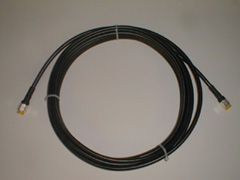 ---
Spare Parts & Accessories
The model 510-1007 FXO office line interface card (base unit) is placed at a location where standard telephone service is available. This replacement card provides connectivity to the PSTN or a PBX. Ring detection as well as call management is handled by this board and termination is to 600 Ohms. This board may be purchased as a replacement or as a spare for support purposes.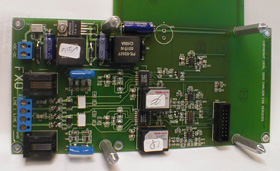 ---
The model 510-2000 FXS subscriber line interface card (subscriber unit) is where the radio signal is decoded and split into two audio phone signals fed to RJ11 phone jacks, just as with normal telephone service. This replacement card provides connectivity to customer premises equipment such as telephone, fax or computer. Each of the two lines provided may drive up to 5 REN supporting a variety of loads and cable lengths. This board may be purchased as a replacement unit or as a spare to increase quality of support.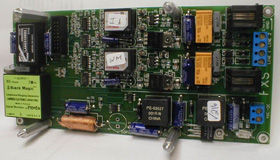 ---
The model 510-4000 Repeater PCA power card.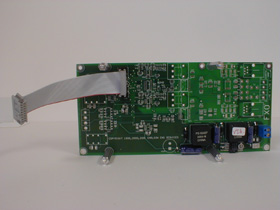 ---
The model 510-3007 Digital card (7C) with SMA Radio (for T-PE, T-LL, T-FT only) provides the analog to digital conversion, creates radio packets and contains the 2.4 GHz radio. This board may be purchased as a replacement or as a spare for increased service. New boards must be programmed with matching serial numbers on each end of the link. This programming may be performed at the factory, authorized dealer or with the appropriate programming hardware and software.